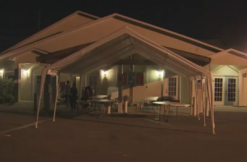 In Raeford, North Carolina, police arrested a man who allegedly threatened to blow up a mosque, left bacon at the door, and also tried to run people over with his car.
It started Thursday afternoon, according to a WRAL report. Employees at the Masjid Al Madina mosque discovered a bag of bacon at the building entrance, investigators told the news outlet. A man who prayed there also claimed a suspect followed him home. He saw the suspect again when returning to the mosque.
At about 6 p.m., this suspect also told a Muslim chaplain (and retired Army captain) he wanted to bomb the mosque. He also allegedly flashed a gun.
And then at 8 p.m., to cap off this series of allegations, the suspect allegedly tried to run over people entering the building for a Ramadan evening prayer. A witness told WRAL the suspect threatened to shoot everyone there.
No injuries were reported, and the suspect ended up in cuffs. He hasn't been named, but he is apparently a major in the U.S. Army Reserve. The Hoke County Sheriff's Office says the investigation is ongoing.
Traditional dietary practices among Muslims cut out pork because of a prohibition in The Qur'an. This arrest also comes in the middle of the holy month of Ramadan, where observant Muslims fast from sunrise to sunset, signifying spiritual improvement.
Ibrahim Hooper, Nation Communications Director for the Council of American-Islamic Relations, demanded enhanced charges. The organization said religious bigotry motivated this crime.
"We call on state law enforcement authorities and the FBI to investigate this incident as a possible hate crime," he said in a statement obtained by LawNewz.com. "We also ask local police to step up patrols in the area of this and other North Carolina mosques, particularly during the nightly activities associated with the ongoing fast of Ramadan."
The suspect has been charged with communicating threats, a Class 1 misdemeanor in North Carolina. Hate crime statues there cover religious motivations, and could allow prosecutors to bump this charge up to a Class H felony.
–
Follow Alberto Luperon on Twitter (@Alberto Luperon)
Have a tip we should know? [email protected]