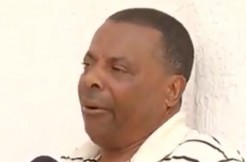 On Monday, sheriff's deputies in Orange County, Florida arrested Simon Pierre Andre Nau, a 60-year-old Uber driver, for hitting a blind man, and refusing him service. Robert Stigile told deputies he ordered a car for himself, several blind friends and their service dogs, according to an arrest report obtained by The Orlando Sentinel.
Stigile said that Nau arrived but refused to do the job.
"I don't take dogs," he reportedly said, and doubled-down when Stigile insisted these dogs weren't pets, but a necessity. "I don't care."
Nau allegedly tried to drive away, hitting Stigile with a door frame. Stigile yelled at Nau to stop, afraid he'd get pulled along with the car, the report states.
Deputies said that Nau laughed about the incident when speaking to them. He didn't seem to "fully understand that he had broken the law."
Uber's policy is that all drivers must let service dogs onto their car. In an interview with News 6, Nau said he was unaware of that rule. He also said his daughter is allergic to dogs, and would've been riding in his van the following day.
Stigile, he claimed, grabbed and hit him.
"I pull his hand, and push him away," he said.
Nau is out on bail, and he faces two misdemeanors: battery, and failing to transport a blind person with a service dog.
–
Follow Alberto Luperon on Twitter (@Alberto Luperon)
Have a tip we should know? [email protected]