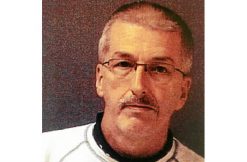 56-year-old Michael Robert Kubek faces seven felony counts after he confronted six teens for allegedly damaging his lawn sign for Republican presidential nominee Donald Trump. Why? Because he allegedly confronted them with a gun.
Police in Allen Park, Michigan say he actually was the one to call 911, according to a News Herald report. But authorities questioned the teens—they all ranged from 12 to 14—who claimed that Kubek pointed a pistol at them in the Saturday incident.
So the cops questioned him, and he allegedly admitted to such gunplay. According to the report, he told officers what sparked the incident: He looked out the window of his home, and saw several children running away while his lawn sign was on the ground. Kubek also explained that his home had been egged in an earlier incident, and his political signs had been damaged. However, he allegedly admitted that he could not identify the people who knocked down the Trump sign on Saturday.
Kubek allegedly said that he just "wanted to scare the kids," and that the gun remained unloaded and in the holster during the confrontation. Reportedly, the officer found the weapon in his dining room, holstered and unloaded.
A probable cause hearing is scheduled for December 5, and Kubek is currently out on bail. He faces one count of "felony firearm" and six counts of assault with a dangerous weapon because there were six teens.
–
Follow Alberto on Twitter (@Alberto Luperon)
Have a tip we should know? [email protected]