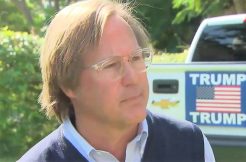 Florida man and Trump supporter David Sanguesa went viral on Wednesday when video showed him losing his temper at a Miami Starbucks. Now he's threatening a lawsuit, saying he was given slow service because he voted for President-elect Donald Trump.
Video captures Sanguesa losing his cool as he demanded a refund.
#trump supporter in #miami @Starbucks attacks & threatens patrons & staff bc coffee took too long, blames anti-white "discrimination" pic.twitter.com/HRj9EahrMy

— jorge de cardenas (@Jbdcl) November 16, 2016
"You're trash," he said, after having stepped into an employee area.
"So what?" the woman said.
"Because I voted for Trump," he said.
He demanded a barista's name, and the employees argued with him over his behavior. He said the barista did discriminate against him.
"I'll punch you out," Sanguesa said to a male employee.
"You want to go outside?" that male employee said. "I'll be happy to."
53-year-old Sanguesa apologies for the incident in a Thursday interview with the Miami Herald, saying he was having what he called a "bad day."
"I was wrong for screaming at her. I have since apologized." But a follow up interview is hinting that this might have long-term legal consequences for Starbucks. He's lost business because of the viral video, he said.
"My attorneys want to file a lawsuit," he said. "No one saw the first part of the video. I was completely done wrong. I was racially discriminated against. I was refused service. I was wrong to get upset, but I was racially discriminated against.
"She wouldn't serve me. She knew I was a Trump supporter and wouldn't give me my coffee."
The barista, Jennifer Santos, told WPLG that no, she didn't refuse him service.
"He must have been having a bad day," she said. "I felt disrespected. Very disrespected. It was very insulting and very discriminating. Things happen."
We reached out to Starbucks for comment on the viral video, and possible lawsuit.
"Embracing diversity and treating each other with respect and dignity is core to Starbucks values and something our partners take great pride in showing. We are committed to providing an inclusive, supportive and safe work environment for everyone," a spokesperson told us. The statement did not mention the possible lawsuit.
This isn't Sanguesa's first run with possible legal actions. From the Miami Herald story:
Previous bad days: the one in 2008 when he was arrested on a DUI charge. The one a week later when he was again charged with DUI. And the day in 2014 when he was charged with domestic violence, which was later dropped. And there were all those days, going back years, when he emailed the Miami Herald with rants against Cubans, women, immigrants, gays and lesbians, President Barack Obama and Hillary Clinton.
[Screengrab via WPLG]
Have a tip we should know? [email protected]