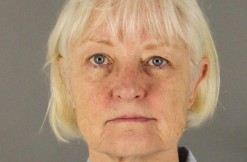 Think of olden times, when boat was the only way to cross vast distances, when stowaways sneaked aboard ships for conveyance to faraway isles, and new worlds. That would never happen with airplanes—except that it actually has.
The alleged stowaway is 64-year-old Marilyn Hartman, according to police. She was arrested Wednesday at Chicago's O'Hare Airport. Charged with probation violation and criminal trespass, she is scheduled to appear at a bond hearing on Thursday.
Yup, she's been arrested for sneaking onto planes before. In fact, she was cuffed twice last year at the same airport, pleaded guilty to criminal trespassing charges, and was released on probation in December to a nursing home.
According to police, Hartman claimed to have gotten away with it a couple of times. Once, two years ago on a flight from San Jose to Los Angeles, then another time from Minneapolis to Florida. Faraway lands, indeed.
Cops called her a "habitual trespasser", according to the New York Daily News, but she apparently said she did it because she homeless, and feels safe in airports.
[h/t New York Daily News]
[mugshot via New York Daily News and San Mateo County Sheriff's Office]
–
Follow Alberto Luperon on Twitter (@Alberto Luperon)
Have a tip we should know? [email protected]