Podcast: Play in new window | Download
Subscribe: RSS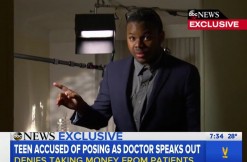 Remember that teenager arrested for practicing medicine without a license in Florida? (This happened Tuesday, people.) Now out of jail on a $21,000 bail, he talked to Good Morning America for a Thursday episode, and ended the interview by walking out.
"I'm going to have to cut this interview short," said Malachi Love-Robinson to GMA correspondent Matt Gutman, sometime after being asked, point-blank, if he was a "fraud."
But why get mad? Let's rewind this a bit.
"I do currently hold a Ph.D," said the 18-year-old Love-Robinson earlier in the talk. "At what, I don't feel comfortable disclosing because that is not the issue here."
Love-Robinson, who went by "Dr. Love," denied he pretended to be a medical doctor. He insisted he never told people he was an M.D., even though a taped-over sign at his West Palm Beach clinic stated that he was.
"That sign on the door was actually due to be changed," Love-Robinson told Gutman.
But the "no license" accusation isn't his only worry. He faces a total of 7 charges, including grand theft, and fraud. For example, an elderly woman issued a criminal complaint saying she'd paid him $3494 to fix her severe stomach pain.
"What services did you provide for that money?" said Gutman.
"I can tell you this," answered Love-Robinson. "Accusations are merely accusations. And 'services,' you'd have to define that. Whether she paid for me to just show up, that's up to her."
"You're not denying the fact that she paid you $3500 or so?" said Gutman.
"No, I am denying that," said Love-Robinson.
In Florida, practicing medicine without a license is a third degree felony, punishable by up to 5 years in prison, and a fine of up to $5,000.
[image via ABC screengrab]
–
Follow Alberto Luperon on Twitter (@Alberto Luperon)
Have a tip we should know? [email protected]