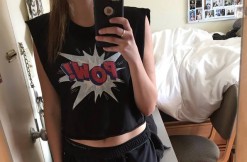 A university says they kicked a student out of the gym to prevent staph infections, but she says they discriminated against her because she's a woman. Okay, let's wind this story back a bit. Grace DiChristina, a student at Santa Clara University, was working out at the campus gym on Jan. 20, according a statement she made on Facebook. Key point: She was wearing a shirt that bared her midriff. (You can see it in the picture we posted.)
This rankled a gym supervisor, who reportedly told DiChristina she couldn't wear that shirt at the gym. Two reasons, according to her statement: 1) Methicillin-resistant Staphylococcus aureus (MRSA), a dangerous, hard-to-cure kind of staph infection potentially spread through sweat, and 2) "the fact that this is a Jesuit institution."
Campus spokesperson Tina Vossugh insists this is only about the MRSA factor, nothing else.
"MRSA thrives in sweat and that is why our university and many others nationwide are working toward limiting as much skin contact as possible with equipment and wearing enough clothing to catch sweat as you are working out," Vossugh told BuzzFeed. When asked about the other reason DiChristina was kicked out—"that this is a Jesuit institution"—she said she didn't know about the conversation.
DiChristina doesn't believe that, period, and she thinks that policy is unfair for women.
"Muscles [sic] tees with long armholes are extremely popular for men," she wrote in her statement. "If you walk into Leavey Center, the first thing you see is that the gym is packed with men sweating directly onto the equipment. However, these men feel safe. One of the rules in the gym is to wipe down equipment after use. Why are women being singled out and punished just because other people can't follow the rules?"
You can check out DiChristina's full statement here:
DiChristina is not the passive sort. She and her sister clashed against their high school's dress code in 2013.
As for the school, Vossugh claims they're revising rules to be fairer, gender-wise. "We are working to formalize the above in our current policy and add that bro-tank cannot be modified or cut in any way to expose the check," she told BuzzFeed.
No legal action has been announced, and it's worth mentioning that Santa Clara University is a private school.
Many gyms worry about cleanliness, and they'll insist people clean machines of sweat after use. Then there's the dress code. In 2014, a pregnant woman was kicked out a South Carolina Planet Fitness because her belly popped out of her shirt (similar to DiChristina's look, actually). This was apparently interpreted by staff as a midriff, which that location prohibited. The woman, Melissa Mantor, said she was contacted by certain lawyers to sue, but she said she didn't want to.
[image via DiChristina's Facebook page]
–
>> Follow Alberto Luperon on Twitter (@Alberto Luperon)
Have a tip we should know? [email protected]