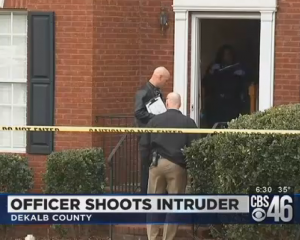 Pro-tip: Never, ever rob a police officer's house. Those guys might shoot you.
That's what happened to an alleged mugger early Sunday in DeKalb County, Georgia. He and several other guys kicked down the door to a nice two-story home. Place had a garage, a nice lawn. Maybe they thought they thought they had themselves a sweet treasure trove to ransack.
Too bad the house belonged to Officer David Sutton of the Atlanta Police Department. Sutton exchanged gunfire with the reported muggers, hitting one of them. Officer Sutton was not injured.
Soon after, a man with a gunshot wound was found in the parking lot of the DeKalb Medical Hillandale Hospital. Police think this was the same guy Sutton wounded. No bonus points for guessing that they arrested him.
The other muggers are still out there, so the DeKalb County Police Department thinks it'd be great if anyone with info on them could call.
[via Fox 5]

–
>> Follow Alberto Luperon on Twitter (@Alberto Luperon)
Have a tip we should know? [email protected]