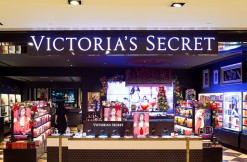 Ladies and gentlemen, here you have the most important story of the day: Police are looking for a man and a woman who stole $2500 worth of underwear from a Victoria's Secret in Staten Island, New York in January.
Investigators say it happened over two "visits." The first time was on New Year's Day, with the guy plucking 80 pairs of underwear while the woman watched his back. They pinched another 120 pairs of drawers from the same store two weeks later, according to authorities.
You can see surveillance footage here:
The investigation is ongoing, but it must be said that both reported thefts happened right after noon. So it wasn't like they broke in when no one else was there.
This brings up so, so many questions. How does someone walk out hiding 80 – 120 pairs of underwear? One or five, maybe, but around a hundred? How do they accomplish this twice? And what's their motive? What the hell are the alleged perpetrators going to do with those drawers? Start a lingerie business? A private collection? Both? This case is going to bug us for days.
If arrested, the man and woman may face at least a charge for fourth-degree grand larceny, a felony in New York State. That could lead to a four-year prison sentence, and a fine of $5,000.
[h/t Pix 11]
[image via Shutterstock]
–
>> Follow Alberto Luperon on Twitter (@Alberto Luperon)
Have a tip we should know? [email protected]