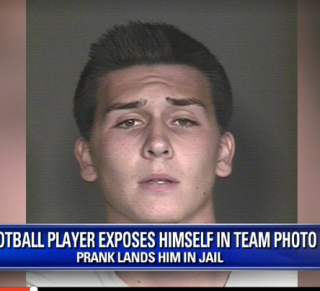 19-year-old Hunter Osborn says it was a joke, merely a dare from a fellow football player to expose himself during a yearbook photo. Well, that prank has landed the Arizona teen in a lot of trouble. He is now facing charges which include 69 counts of indecent exposure. He has also been fitted with an ankle monitoring device. The photo had been circulating for months in football game programs and the yearbook before Red Mountain High school officials noticed, according to Fox 10 in Phoenix. Apparently, more than 3 thousand students received a copy of the yearbook with the photo.
"When people told me about it I thought it was a big thing, but when I looked at it like you can't really tell, it's kinda hard to see," student Zach Anthony told the local television station.
Police say Osborn admitted that he exposed himself in the picture. School officials says they are recalling the yearbook to so that they can "make a minor but critical edit for the inappropriate content. " In addition to the 69 counts of indecent exposure, Osborn is also facing one count of furnishing harmful items to minors, which is a felony, according to CBS affiliate KPHO.
19yo Red Mountain HS football player says he's "disgusted" with himself after he revealed his privates in team photo, according to PD report

— Derek Staahl (@DerekStaahl) May 2, 2016
Mesa Public Schools released this statement to local news outlets:
"The district is dismayed by the actions of the students involved in the photograph.

Their behavior does not reflect the values of Red Mountain High School or Mesa Public Schools.

Upon learning of the photograph, school administration immediately contacted police and is cooperating fully with the investigation.

Disciplinary action will follow policy and may be based on the outcome of the police investigation.

The school and district are conducting an investigation to determine what actions might have prevented the publication of the photograph, so appropriate safeguards can be put in place going forward.

While the small size of the photograph as published makes the details difficult to discern, the yearbook has been recalled so the school can make a minor but critical edit for the inappropriate content."
Have a tip we should know? [email protected]
Rachel Stockman - President / On Air Host