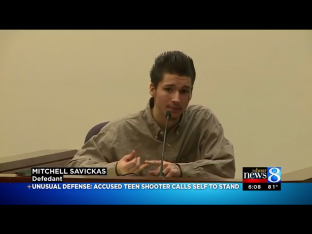 A Michigan teenager is likely regretting the decision to represent himself at his first degree felony murder trial.  Jurors on Thursday returned a guilty verdict after deliberating for approximately 30 minutes.
Mitchell Savickas, 19, was accused of killing 17-year-old Isaiah Blue at a bus stop in January.  WOODTV.com reports Savickas acted as his own attorney at his three-day trial this week and even took the stand where he offered a rather unique claim of self-defense.
According to the report, Savickas admitted that he approached Blue at the bus stop with a gun drawn and told him to empty his pockets.  He even admitted that Blue had his hands in the air at the time he fired the first shot.  However, Savickas still tried to claim he fired in self-defense because he feared Blue might have a gun.
"I thought I was gonna die," Savickas testified on Wednesday, WOODTV.com reports. "It was just a matter of time before I was gonna get shot."
Savickas also testified that he knew Blue from a prior altercation at a juvenile detention facility and told jurors that he always carried a gun because he feared for his safety.
"I always have worst case scenarios in my mind. I'm going to be ready for anything," Savickas testified. "The times I didn't go with my instincts, bad things happen to me."
One might wonder whether Savickas' instincts told him to represent himself at trial.
Another part of Savickas' unique defense was his claim that he blacked out after firing the first shot.  Blue, who was unarmed, was reportedly shot three more times in the back.  Prosecutor Kevin Bramble tore into this claim on cross examination, calling it "convenient."  He then hammered the point home during his closing argument.
"He can remember everything that occurred before, everything that occurred after he shot him three times in the back, because that's what buries him here, ladies and gentleman of the jury," Bramble told the jury.
The jury evidently believed Bramble and returned a guilty verdict after 30-minutes of deliberation on Thursday morning.
The conviction carries a mandatory sentence of life without parole. Savickas will be formally sentenced on August 3.
Have a tip we should know? [email protected]