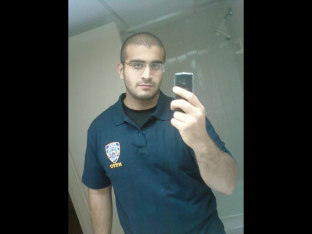 By now, you have almost certainly heard about how Orlando terrorist Omar Mateen was once placed on a terrorist watch list.  A new report on Thursday provides a fascinating look inside that investigation, but it also raises questions about whether more could've been done to stop the worst terror attack on U.S. soil since 9/11.
The Los Angeles Times recounts the behind the scenes story of the 10 month investigation into Mateen that took place between May 2013 and March 2014.  After receiving a tip that Mateen might be radicalized, a joint task force consisting of FBI agents and local sheriff's deputies opened a preliminary investigation pursuant to guidelines set by the Department of Justice.  The preliminary investigation allowed the task force to wire up two confidential informants to record Mateen's statements, review his telephone records, conduct surveillance and interview him.  It was during this time period that Mateen's name was added to the "selectee list" in the FBI Terrorist Screening Database.  However, the report states agents found nothing during the preliminary investigation to justify opening a full investigation on Mateen.
It is easy to sit back with the benefit of hindsight and point fingers at possible signs that investigators missed.  But two incidents do stand out as events that might've warranted expanding the preliminary investigation into a full investigation.  Doing so would have given the task force more tools to use to try to find out additional information on Mateen's activities.  Furthermore, it is possible that further investigation would have at least kept Mateen on the FBI's radar as he became more radicalized in the lead up to the June 2016 attack.
The first incident occurred during the task force's interviews with Mateen in September 2013.  The LA Times article states Mateen lied to investigators when he denied making radicalized statements to his coworkers during his first interview.  During a subsequent interview, Mateen would admit to investigators in a written statement that he had indeed lied in the prior interview.  Lying to an FBI Agent is a federal crime, but the investigators decided not to press charges or open a full investigation.  Instead, the task force only requested an extension of the preliminary investigation.  By March 2014, the preliminary investigation was dropped and Mateen's name was removed from the FBI watchlist.
The task force received another opportunity to look closer at Mateen during the summer of 2014 after Moner Mohammad Abu-Salha traveled to Syria and killed himself in a suicide bomb attack.  Abu-Salha was an American citizen with family in Florida, and in a video made before his death, Abu-Salha admitted that he was inspired by the radical cleric Anwar Awlaki.
During the course of the investigation into Abu-Salha, the FBI discovered he attended the same mosque as Mateen.  An unidentified member of the mosque reportedly told the FBI that Mateen had stated that he also watched videos of Awlaki.  The mosque member reportedly did not think Mateen was a threat, but he did tell the FBI to keep watch on him.  This report apparently caused enough concern that the FBI interviewed Mateen again, but it did not cause them to reopen the investigation.  Instead, they appear to have just taken Mateen at his word when he denied watching videos of Awlaki — even though the FBI knew he had lied to them in the past.
Mateen's name would not pop up again on the FBI's radar until the deadly attack last month in Orlando.
Have a tip we should know? [email protected]