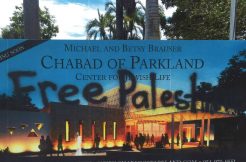 Sheriff's deputies in Parkland, Florida are looking for whoever spray-painted at a local synagogue on Saturday. "Free Palestine" was written on a lawn sign while the more foul "F–k 12" was written twice: once on a wall, and again on nearby traffic signs.
We obtained photos from The Broward County Sherriff's Office, which is looking into this incident. You can view these by clicking here, but please note that some images show foul language.
Rabbi Shuey Biston said it's more serious than regular graffiti.
"Certainly, it was a hate crime and it was intentional that it was on a synagogue, and that's unfortunate, but our response to these types of attacks is to add a little positive energy and some light and love," he told Local 10.
According to an incident report obtained by LawNewz.com, the Sheriff's Office is investigating the incident as criminal mischief. If anyone is ever charged for this, it will likely be treated as a third-degree felony since a place of worship was defaced. Official records don't indicate that there's a hate crime investigation even though the relevant statue covers religion.
Also worth pointing out: This is the same synagogue that Sheriff Scott Israel goes to, according to Local 10.
The vandalism actually happened the day before Rosh Hashanah started. The two-day* holiday celebrates the new year of the Hebrew calendar.
*It technically started at sundown on Sunday, and will end at sundown on Tuesday.
–
Follow Alberto Luperon on Twitter (@Alberto Luperon)
Have a tip we should know? [email protected]