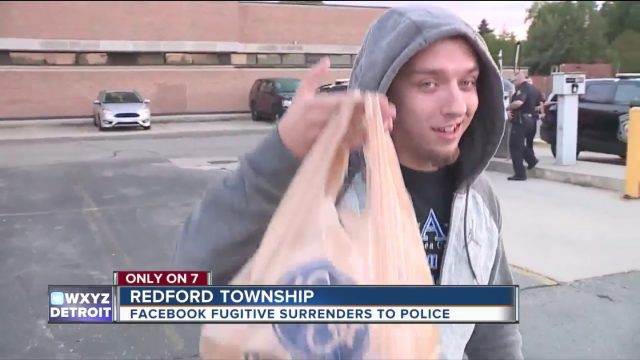 A suspect wanted for several outstanding warrants turned himself in to police in Michigan after making a promise that he'd do so if a Facebook post got enough shares.
On October 6, someone with the Redford Township Police Department ("RTPD") apparently contacted Michael Zaydel via Facebook Messenger in order to alert him to the existence of multiple outstanding warrants. In response, Zaydel replied:
Yeah I'm not worried about it. If you're [sic] next post gets a thousand shares I'll turn myself in along with a dozen doughnuts. And that's a promise. And I'll pick up every piece of litter around all your public schools let's see if you can get those shares.
The RTPD then took a screenshot of Zaydel's message–sent to the department via his Facebook persona "Champagne Torino"–and rebroadcast the offer in a Facebook post accepting his challenge. The warrant-advertising-and-challenge-accepting post read, in part:
[I]f we can have this post SHARED 1000 times, he will turn himself in to RTPD on his existing warrants, clean up blight on public school property, and bring us a dozen donuts. Donuts!!!! He promised us donuts! You know how much we love Donuts!
Monday evening, after 10 days and over 4,000 shares, Zaydel walked into an RTPD stationhouse bearing a sagging Kroger bag filled with a dozen store-brand doughnuts and one single-serve bagel. The cops were fed and happy.
In a triumphant post celebrating their social media victory, the RTPD also extolled the virtues of their suspect and the Facebook community who helped Zaydel bring himself to bring himself in. They wrote:
This evening at approximately 6:30 pm Michael Zaydel made good on his promise to turn himself in to RTPD for his outstanding warrants. He walked in on his own, and not only did he bring the donuts, he brought one bagel! We would again like to express our gratitude for the support of all who followed this, shared it, and left us positive feedback.
It's should be noted that all of Zaydel's warrants were for misdemeanor offenses. He is accused of a DUI and a parole violation, according to the local ABC affiliate. Zaydel is scheduled for a hearing on Tuesday.
[image via screengrab/WXYZ Detroit]
Follow Colin Kalmbacher on Twitter: @colinkalmbacher
Have a tip we should know? [email protected]