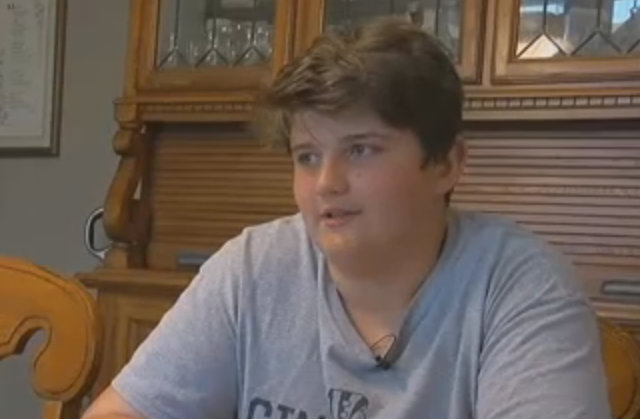 10 days suspension. That's how long officials at Edgewood Middle School wanted to kick 7th grader Zachary Bowlin out of classes, according to a Fox19 report. This is because he hit "like" on an Instagram post featuring the image of an airsoft gun. It featured the caption "ready."
Zachary told the outlet he ran across the image one evening, and school officials called him into the office the next day to pat him down for weapons.
"I was livid," said father Marty Bowlin. "I mean, I'm sitting here thinking, 'You just suspended him for ten days for liking a picture of a gun on a social media site. He never shared, he never commented, he never made a threatening post, anything on the site. [He] just liked it [the gun image]."
His son even risked expulsion. Nonetheless, that won't be an issue anymore. The Bowlins said the school dropped the suspension after talking to the family, and they won't deal with anymore punishments. Zachary said from now on, he'll be careful about what he "likes"
Officials defended the way they handled it as they clearly interpreted the image as showing a real gun. Superintendent Russ Fussnecker wrote Fox19 his stance:
The Board has a "zero tolerance" of violent, disruptive, harassing, intimidating, bullying, or any other inappropriate behavior by its students.

Furthermore, the policy states:

Students are also subject to discipline as outlined in the Student Code of Conduct that occurs off school property when the misbehavior adversely affects the educational process.

As the Superintendent of the Edgewood City Schools, I assure you that any social media threat will be taken serious including those who "like" the post when it potentially endangers the health and safety of students or adversely affects the educational process.
Meanwhile, the unidentified student who took and posted the image "remains out of school" as Fox put it.
Fussnecker has said his only priority is keeping students safe.
"I'm here for all students," he told WLWT. "And at the end of the day, and I've said it time and time again, parents will forgive us for certain things. They're not going to forgive us if their kid doesn't come home. They're just not. And it's difficult to even think about it, but it happened 10 minutes up the street almost."
He referenced a 2016 gun-related incident at Madison Township Junior-Senior High School. The 15-year-old pleaded guilty to shooting two students, and injuring two others.
Hitting like on an Instagram post might be a simple action, but Bowlin's story hit on a wide variety of constitutional dilemmas. This story is about the intersection between student's speech rights, and the school's power to control that.
For example, note the element of a "chilling effect." This term tends to pop up on writing about the First Amendment. It refers to what happens when protected speech is not uttered all because of fear of government retaliation. In this case, you've got a student who said he is now more cautious about "liking" social media posts. (In 2013's Bland v. Roberts, the 4th Circuit Court of Appeals ruled that the First Amendment covered Facebook "likes.")
LawNewz.com reached out to Professor Catherine J. Ross, who teaches over at George Washington University Law School, for her take. She literally wrote the book on the subject of students' free speech, 2015's Lessons in Censorship: How Schools and Courts Subvert Students' First Amendment Rights. We asked about the legal dynamics at play, and whether case law on online, off-campus speech is fleshed out.
"You are absolutely right that the case law on these off-campus comments is unclear, and may vary depending on where the student lives (in other words, what the district's federal appellate court has said, if the court has addressed the question)," she told LawNewz.com. "The lack of guidance from the courts matters because schools increasingly seek to discipline students for what they say on social media, from their own computers in their free time. From a free speech perspective, punishing a student isn't the same as suggesting that students think twice before posting. That said, this is not the most extreme case of discipline for social media posts I have seen, for two reasons."
First, Ross said, the school believed the Instagram post signaled a possible threat to school safety. "And that's understandable given that it was a picture of a gun."
She commended officials for lifting the suspension and reinstating Bowlin once they figured out he wasn't a threat. Ross pointed out that this is what the law requires even if he had been speaking on campus.
"Schools are allowed to isolate the student while figuring out if there is cause for concern about safety," she said. "Then, if the inquiry reassures that there is no danger, the student should be reintegrated into his or her academic schedule. So the officials should be applauded for lifting the suspension even if they over-reacted initially. Some school officials just dig their heels in."
Update May 8, 9:48 a.m.: We added legal analysis from Professor Catherine J. Ross.
[Screengrab via WLWT]
Have a tip we should know? [email protected]