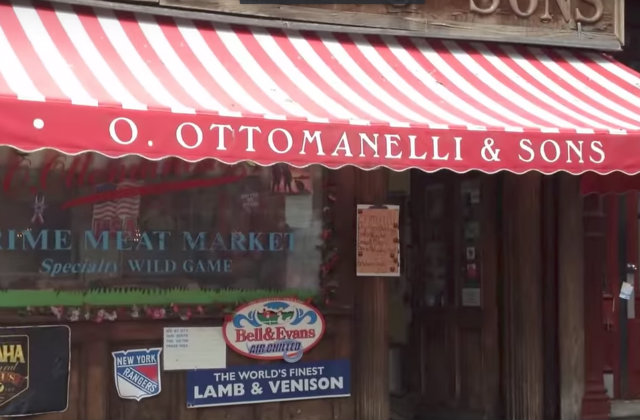 Manhattan authorities have charged butcher Joe Ottomanelli with giving a black deliveryman a noose as a "gift." That's a hate crime in the eyes of the law, but the 58-year-old's attorney claims it was just a bad joke.
"Here is your gift," the defendant said after an April 5 meat delivery at Ottomanelli & Sons Meat Market, according to the criminal complaint obtained by The New York Daily News. "You can put it around your neck and pull if you want to end it all. If you are feeling stressed out I can help you with it".
It was just a joke, attorney Ron Kuby told the outlet. Ottomanelli had no harmful intentions. He claimed alleged victim Victor Sheppard was just trying to make money off a lawsuit.
Nonetheless, the defendant is scheduled for Sept. 19 hearing at Manhattan Criminal Court.
Sheppard, 37, has not sued Ottomanelli & Sons, but he did lose his job after he stopped coming into work. He and his attorney Wylie Stecklow told the outlet he was too traumatized.
"Victor could not return to that environment," Stecklow said. "His employer knew exactly what happened and was supportive but they never stopped doing business with Ottomanelli."
He claimed his client was "unable to sleep through the night and unsure when his life will return to normal."
Sheppard said that the incident "makes me think about what my ancestors had to go through in this country."
His employers at Bronx-area Mosner Family Brands said they sent a June 9 notice, in which they assumed he ditched his job.
Boss Michael Mosner said he tried to make things work out with out with Sheppard.
"Naturally we were horrified about what happened," Mosner said, talking about the noose. He argued Sheppard could've applied for disability leave, and they also offered him free counseling and tried to assign him to delivery routes away from Ottomanielli. Sheppard pursued neither option, he said.
[Screengrab via J Cahill]
Have a tip we should know? [email protected]