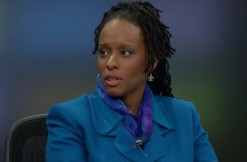 A soon-to-be lawmaker in Kentucky says the dress code for her daughter's school is racist because it prohibits hairstyles associated with black people. Attica Scott tweeted the rules from Jefferson County Public Schools on Wednesday.
"No dreadlocks, cornrolls [cornrows], twists…will be worn in hair," the district said. Afros are to be two inches long at most. Students who break the rules won't be allowed back in class until their attire is corrected."
Soooo…my daughter had registration today and let's just say she's not happy abt the #JCPS no natural hair policy. pic.twitter.com/ApPDyv3sbo

— Attica Scott (@atticascott) July 27, 2016
"I don't understand why we're going to focus on something like natural hair styles when we should be focused on education," Scott, who is black, told The Courier-Journal. "They specifically outlined hairstyles that are worn most by black kids. To me, this stinks of institutional racism."
She's certainly gotten her share of support on Twitter.
@atticascott shame on you @JCPSKY. This policy tells children their natural hair is something to be embarrassed and ashamed over.

— Olivia Renfro (@oliviarenfro) July 28, 2016
SINCE WHEN DID HAIR AFFECT A CHILD'S ABILITY TO LEARN @ SCHOOL ??? smh https://t.co/CFI3KcMO2f

— samari abiori (@samariabiori) July 29, 2016
@CamGibson3 @atticascott At what point are you going to realize that these hairstyles are TRADITIONALLY black and most COMMONLY black?

— Milfey Cyrus (@JustAnthrTweetr) July 29, 2016
@atticascott My sons hair longer than 2″,will not be getting it cut! What about other students w/long straight hair? pic.twitter.com/05VdflNOJS

— Amie J Beattie (@AmieJBeattie1) July 29, 2016
@atticascott Don't know what offends me more: the policy or "cornrolls."

— Ashlee 2 Last Names (@AshleeEats) July 28, 2016
"It's a policy that's been in place. It's not a new policy, and we appreciate that the concern has been brought to our attention, because our board of education is adamant in its policies about being inclusive," JCPS superintendent Donna Hargens told WDRB. She said the district is reviewing the policy.
Scott, who beat two opponents in the local Democratic primary, technically isn't a lawmaker yet, but it's kind of hard to lose since she's running unopposed in the November 8 general election.
[Screengrab via Kentucky Educational Television]
–
Follow Alberto Luperon on Twitter (@Alberto Luperon)
Have a tip we should know? [email protected]