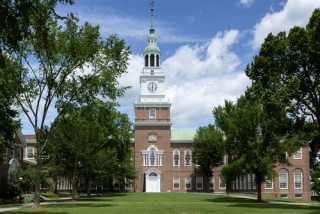 Members of the Kappa Delta Epsilon sorority, at Dartmouth College, have voted to change the theme of its annal Derby-themed social event to a Woodstock theme, according to TheDartmouth.com. The newspaper reports the move was prompted after a protest "at which around 20 Dartmouth students demonstrated against police brutality toward people of color."
"We want to be positive contributors to campus climate and campus conversations around really important issues like race and class," sorority president Allison Chou told her school newspaper. "This is one actionable step that we as a whole house have voted on and are planning on taking to fulfill that role as positive contributors to campus." The students said they were upset because the derby is related 'to pre-war southern culture.'
Joseph Asch, a '79 Dartmouth grad, was quick to fire back with what he perceived as another example of an overly 'politically correct' campus. He wrote a fiery post on dartblog.com, the college's daily blog, headlined, "I Guess Anything Southern is Racist."
Asch wrote, in part:
The millennial generation desperately wants good feeling all around — matters of principle be damned — so why provoke others with an event that, what really?evokes the South. The horse race itself has no roots in slavery; it was first run in 1875. And the Derby seems to have no racist connotations nor generated any other protests (except PETA's 2013 billboard decrying the doping of horses) — a pretty good record when everyone seems to protest everything these days.

So, again, let's ask: what is the operative principle here? That someone somewhere didn't like the party's innocent theme, so it's time to change it, rather than have a discussion about the merits of the dispute. Is that what passes for intellectual debate on an Ivy League campus nowadays?
Have a tip we should know? [email protected]
Rachel Stockman - President / On Air Host