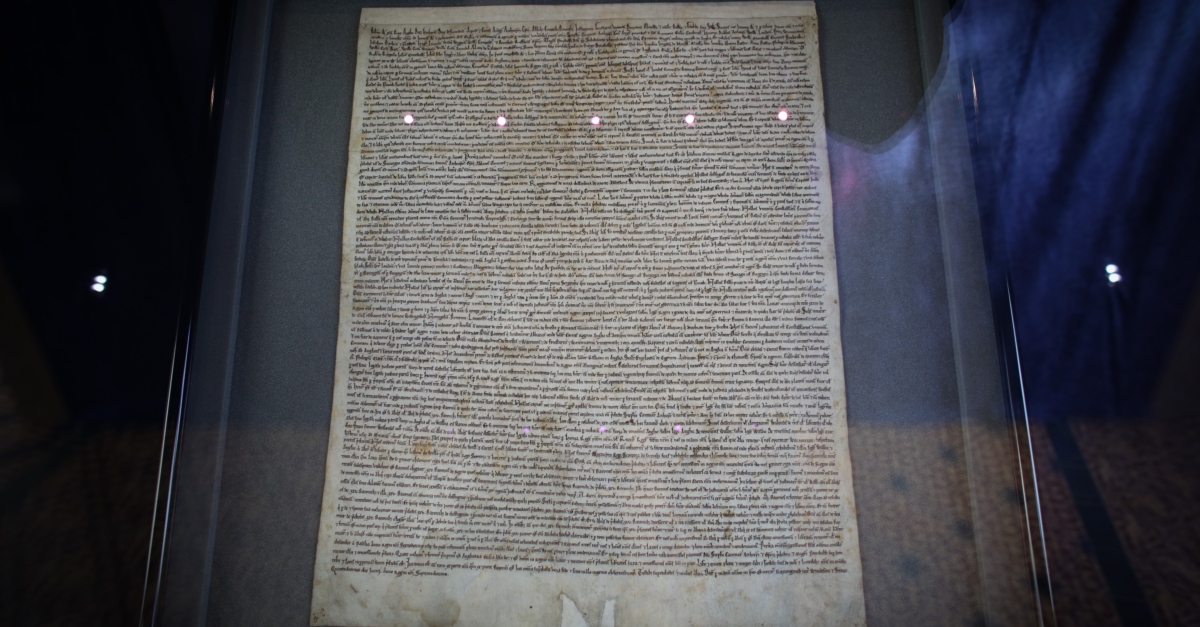 There are three things you need to know about the Magna Carta: Powerful English barons leveraged the vulnerable King John into signing this document in 1215; its emphasis on establishing property rights for the barons, and putting explicit limits on the king's power influenced English law for centuries, and helped shape the U.S. Constitution; someone allegedly tried to steal this 803-year-old document from the Salisbury Cathedral in England on Thursday.
If you witnessed this incident in Salisbury Cathedral yesterday afternoon, and haven't yet spoken to police, officers are keen to hear from you. Call 101. #MagnaCarter #Salisbury https://t.co/cof2dXk4sv pic.twitter.com/RReAyqELES

— Wiltshire Police (@wiltshirepolice) October 26, 2018
Look at that picture. Someone allegedly went to town on that glass protector with a hammer. Wiltshire Police apprehended a 45-year-old man for the incident, according to The Mirror. He was arrested for suspicion of attempted theft, possession of an offensive weapon and criminal damage.
A local woman identified as Jenny told The Salibury Journal that she and others were walking by the cathedral when the alarms went off. She saw several men fighting.
"I saw a hammer drop to the floor and one of the men kicked it into the road whilst another man held on to him," she said. "They then held onto him with hands behind his back whilst they picked up the hammer – lots of people around started to come over."
A spokesman for the Cathedral confirmed that a man broke into the case.
"We are very sorry that, for the time being, our copy of Magna Carta will not be available to visitors and will have it back on display as soon as we can," he said in statement obtained by the Journal.
He said no one was hurt during the incident, and the Magna Carta itself sustained no damage. That copy is described as the best preserved out of four surviving copies from 1215.
[2015 picture of the Magna Carta at Salisbury Cathedral via Matt Cardy/Getty Images]
Have a tip we should know? [email protected]