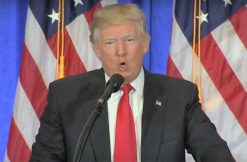 The Secret Service confirmed that it is investigating a woman for writing an assassination-themed tweet about President Donald Trump.
"If someone was cruel enough to assassinate MLK, maybe someone will be kind enough to assassinate Trump," Kentucky woman Heather Lowrey wrote in a now-deleted message. #bekind #trump #lovetrumpshate."
The Secret Service field office in Louisville, Kentucky told The Courier-Journal in a Friday report that they're looking into it.
"Any time threatening communications like that are made, we always conduct an investigation," an agent said. But they declined to offer more information.
In case you've just woken up from a coma, real estate mogul Donald Trump is now President of the United States. His victory was met with some…displeasure because of his hardline immigration policy, several sexual assault claims, and his unwillingness to fully divest his business holdings upon taking office.
In the 1969 case Brandenburg v. Ohio, the Supreme Court said a state law used to charge a KKK member discussing "revengeance" against the U.S. government actually violated the First Amendment because it was too broad. They established a test for legislation: prohibited speech must intentionally try to spark "imminent lawless action," and it must be likely to achieve this effect.
No charges have been announced but this has already changed Lowrey's life. She has deleted her Twitter and Facebook accounts. Meanwhile, employers at the Travis Moody Agency, Heyman Talent Agency, and Burlesque group Va Va Vixens announced that they cut ties with her.
[Screengrab via BBC]
Have a tip we should know? [email protected]