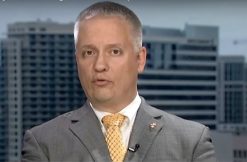 Update – December 17, 2016: Suprun spoke with C-SPAN on Saturday. The report included a letter from the Dale City Volunteer Fire Department, which said he actually worked there on 9/11. You can see our write-up on that here. Below is our original piece.
****
Chris Suprun's public profile always revolved around 9/11, so he was a bit of a name even before he became a controversial presidential elector. The firefighter, who says he was a first responder that day, runs a charity commemorating the terrorist attack. His work even got him to throw a ceremonial first pitch for the Arizona Diamondbacks in 2015.
9/11 First Responder Christopher Supran threw out today's ceremonial first pitch. #NeverForget pic.twitter.com/FFkFygMGvO

— Arizona Diamondbacks (@Dbacks) May 13, 2015
Except there is no record of him actually being there on 9/11, according to one WFAA report.
"He claimed to be a first responder with the Manassas Park [Virginia] Fire Department on September 11, 2001 and personally told us stories 'I was fighting fire that day at the Pentagon,'" another first responder told the outlet on condition of anonymity.
125 people died when a commercial airline, hijacked by terrorists, flew into the Pentagon.
So WFAA followed up with the MPFD and discovered that while Suprun did work there as a firefighter, they only hired him in October 2001. Their contact, a fire chief, said they didn't even respond to the Pentagon attack.
As of Friday morning, Suprun's LinkedIn page said he worked as a "Firefighter/ALS Technician II" for the city starting September 2001.
We've reached out to the fire department and him for comment, and we asked Suprun about the other apparent irregularities in his resume: for example, that he claims to work Air Methods air ambulance service, a Arizona company, but WFAA said a spokeswoman claimed he doesn't work there. Also, that he also claims on his LinkedIn page that he works on Freedom EMS in Dallas—and the outlet checked with Texas state records, and discovered that went out of business in 2008.
Suprun's profile got raised a bit when he wrote a December 5 New York Times op-ed saying he wouldn't vote for President-elect Donald Trump despite being a Republican elector in Texas. He mentioned his 9/11 story in the article, too.
"Fifteen years ago, as a firefighter, I was part of the response to the Sept. 11 attacks against our nation," he wrote. "That attack and this year's election may seem unrelated, but for me the relationship becomes clearer every day."
On Monday, presidential electors will meet across the county to ostensibly choose Donald Trump to be the next head-of-state. However, some anti-Trump opponents—usually citing his controversial rhetoric, and loss in the popular vote—are asking electors to dump him. But based on the way the college works, though, this means at least 37 Republican electors, like Suprun, would have to turn. Quite the hurdle. At least one other Texas man Art Cisneros, resigned rather that vote. Plus it's unclear who they'd vote for even if they do. Suprun said that he definitely wouldn't vote for the Democratic candidate Hillary Clinton.
[Screengrab via Fox News]
Have a tip we should know? [email protected]