Podcast: Play in new window | Download
Subscribe: RSS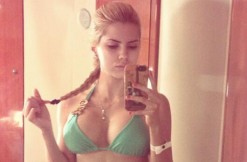 A model and her boyfriend got away with at least $2 million in an identity theft scheme targeting the elderly, according to prosecutors.
Ranging as far as South America, Patricia Perez-Gonzalez, and Alberto Companiani lived lavishly from their alleged plot until authorities caught them in March, the Daily Mail reports. Nice clothes. Cross-country flights. Expensive restaurants where rib eye steaks go for $105, and bottles of Louis Roederer Cristal for $14,000. Perez-Gonzalez allegedly also used the money to fund her boutique, Le Fashion Wheels.
They seemed to be pretty happy displaying their lifestyle, too. The model posted quite a few picture of her and her boyfriend on her several social media accounts (which have since been largely scrubbed).
Steven Schrank, an agent for the Department of Homeland Security, told Good Morning America that investigators linked them to certain credit card encoders and ID documents from their alleged targets. There were at least 40 alleged victims, all elderly. Good Morning America reports there's even more to this: The duo are apparently part of a larger identity theft ring.
Facing indictments by the Manhattan District Attorney's office, Perez-Gonzalez and Companiani have pleaded not guilty to grand larceny and identity theft.
[h/t Good Morning America]
[image from Twitter]
–
Follow Alberto Luperon on Twitter (@Alberto Luperon)
Have a tip we should know? [email protected]