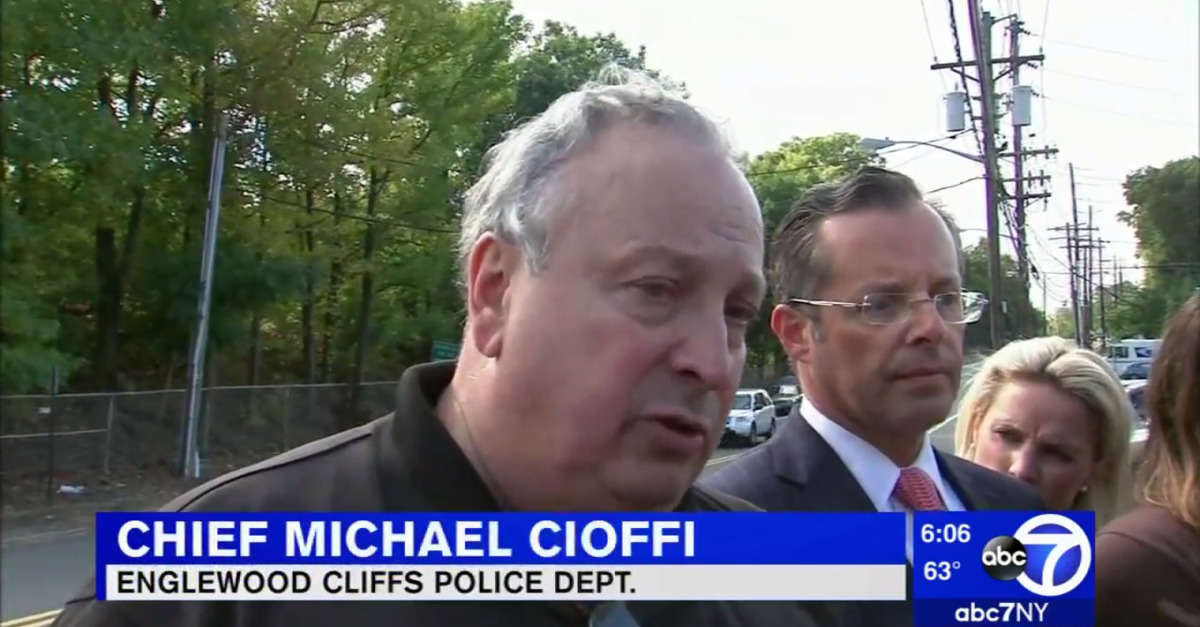 A newly released recording allegedly features Englewood Cliffs Police Chief Michael Cioffi saying that he "would like to kill" the town's council president. The same recording also reveals that Cioffi allegedly referred to said president, who is a woman, as a "bitch."
Listen to the recording via SoundCloud here.
According to NJ.com, the recordings may amount to a bit of an own-goal by Cioffi. That is, they stem from the discovery process of a civil lawsuit the police chief personally brought against the small New Jersey town.
At one point during the recordings, Cioffi allegedly refers to Council President Carrol McMorrow as "one hell of a bitch, let me tell ya." At another point, however, Cioffi allegedly remarks, "I'd like to kill her but I can't do that." The recording continues, "Well you know, I look at the Shawshank Redemption and say, hmm. You know?"
Those released segments of audio were culled from over 120 audio tapes–spanning some 40 hours of recordings. The dialogue in question was recorded on January 2, 2017, using an audio recorder owned by Englewood Cliffs and previously in the possession of Cioffi. According to Mayor Mario M. Kranjac, the small town repeatedly asked for the recorder back from police chief and then filed criminal charges before it was ultimately returned.
McMorrow played snippets of those recordings in front of a council meeting last Wednesday night. She said that after the Shawshank Redemption reference, Cioffi discussed the pros and cons of having her killed. In comments at that meeting, she noted:
Just imagine, our chief of police, on duty, carrying a borough-issued gun, discussing with a borough employee whether or not ending my life would be worth it. I am extremely concerned about this conversation.
The council president continued, I'm playing it here for you tonight so you can have an idea of what these tapes are like. There are other tapes with content equally disturbing to this if not worse. The conversation on this tape is between Chief Cioffi and borough employees."
According to attorney James Patuto, who is not working on the present case, but who has represented Cioffi on other disciplinary matters in the past, "He made the tapes to protect himself against the mayor."
Patuto continued, "The chief has been harassed for the last two years by the mayor and council president. There was some joking going on between a lot of people in city hall just to break the tension. No one is proud of these things but it's normal…workplace talk when you have an ill-tempered chief executive who just doesn't follow the law."
Cioffi is currently suing Kranjac for allegedly overstepping his powers by trying to force the chief of police to use his cached vacation time instead of paying out some $300,000 in retirement funds.
McMorrow's brother, Michael McMorrow, sued Cioffi and his department for retaliation in 2017 after being suspended for bringing a personal attorney to a deposition. The other McMorrow claimed he was politically persecuted and the small town eventually settled with his claims to the tune of $375,000.
[image via screengrab]
Follow Colin Kalmbacher on Twitter: @colinkalmbacher
Have a tip we should know? [email protected]