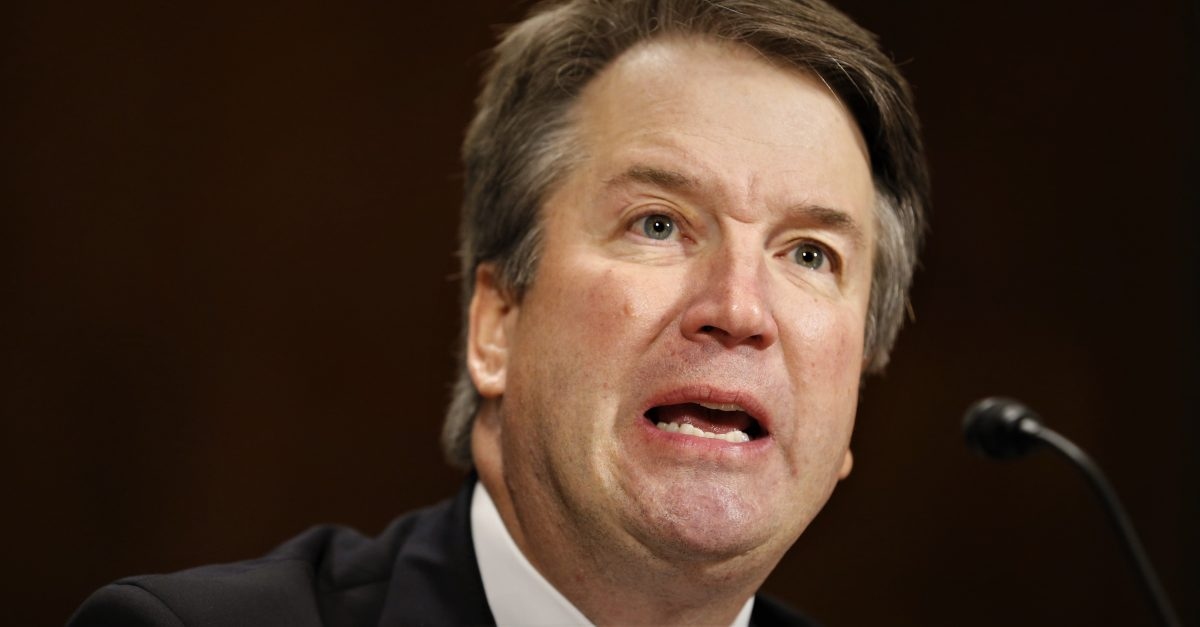 Supreme Court nominee Brett Kavanaugh told the Senate Judiciary Committee on Thursday that he first heard about the Deborah Ramirez allegation when it was published in The New Yorker on Sept. 23. The thing is, one of the judge's friends provided NBC with texts apparently showing that he knew about the claim before that, and tried to recruit people to defend him.
This report has some lawyers and prominent pundits suggesting this constitutes witness tampering.
lol witness tamperinghttps://t.co/CU8HCA7WH7

— T. Greg Doucette (@greg_doucette) October 1, 2018
Based on these facts, we can't say that Kavanaugh has engaged in witness tampering. We *can* say that it's grossly inappropriate for a sitting judge to contact potential witnesses against him.

AND, it sure seems like Kavanaugh lied (again) under oath to the Senate. https://t.co/MmLzaBhJxs

— Elie Mystal (@ElieNYC) October 1, 2018
A couple of days ago, I told someone I thought Kavanaugh was too smart to be reaching out to potential witnesses himself. It looks like I was wrong. From @LACaldwellDC and @HeidiPrzybyla https://t.co/McATlSjrmn

— Jonathan Allen (@jonallendc) October 1, 2018
7/ Here is the transcript. Kavanaugh tells a bald-faced lie to @senorrinhatch @OrrinHatch.
And now we are also talking about witness tampering.https://t.co/sum8dO1M1r

— Jed Shugerman (@jedshug) October 2, 2018
"And now we are also talking about witness tampering," wrote Fordham law professor Jed Shugerman, an expert on American courts.
Ramirez, one of Kavanaugh's classmates at Yale, said he drunkenly stuck his penis at her during a party decades ago.
The texts in the NBC story were provided by Kerry Berchem, a partner at the Akin Gump law firm. In the messages, Karen Yarasavage, another Kavanaugh friend, told her  that "Brett" asked her to deny Ramirez's allegation on the record. She also wrote about communicating with "Brett's guy."
Yarasavage declined to speak to NBC, but Bechem provided a statement.
"I understand that President Trump and the U.S. Senate have ordered an FBI investigation into certain allegations of sexual misconduct by the nominee Brett Kavanaugh," she wrote. "I have no direct or indirect knowledge about any of the allegations against him. However, I am in receipt of text messages from a mutual friend of both Debbie and mine that raise questions related to the allegations. I have not drawn any conclusions as to what the texts may mean or may not mean but I do believe they merit investigation by the FBI and the Senate."
Bechem said that she has been trying to get these messages to the FBI, but they haven't contacted her.
She said that Yarasavage claimed to turned over a copy of a wedding party photo to Kavanaugh.
"I had to send it to Brett's team too," she reportedly wrote in a text. This photo shows seven people posing at a 1997 rehearsal dinner. Kavanaugh is second from right, and Ramirez on the far left. The wedding was between a pair of mutual friends. Obstensibly, the picture could be used to undermine the allegation, but Becham, who said she was at the wedding, said Ramirez seemed uncomfortable.
She "clung to me," and "never went near" Kavanaugh and his friends, Becham wrote in a Sept. 24th text to Yarasavage. She suggested that Ramirez was trying to stay away from him even in the photo.
A spokesman for Sen. Chuck Grassley (R-Iowa), the Judiciary Committee Chairman, dismissed the texts as a political ploy by Democrats. George Hartmann said "the texts from Ms. Berchem do not appear relevant or contradictory to Judge Kavanaugh's testimony."
"This appears to be another last-ditch effort to derail the nomination with baseless innuendo by Democrats who have already decided to vote no," he said.
[Image via Michael Reynolds-Pool/Getty Images]
Have a tip we should know? [email protected]