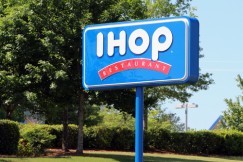 The gig is up for a 27-year-old man accused of giving away $3,000 worth of free drinks at a Downtown Brooklyn IHOP. William F. Powell, was arrested after Akrell Cox, the owner of the IHOP, grew suspicious of Powell's dismal beverage sales.
"I am the modern day Robin Hood," Powell told investigators after he was caught. "I am not stealing, I am serving the ones in need, I take from the rich and give to the poor," the former employee said, according to a criminal complaint. Corporations, mannn…
Powell was arrested after Cox determined that 6 percent of total receipt beverage sales were significantly lower than the 17 to 20 percent for other employees working the same shift and schedule. Cox's review of in-restaurant surveillance footage showed Powell serving a typical number of drinks with an atypical number of sales. If you visited the Brooklyn IHOP at 253 Livingston Street between August 7, 2015 and Feb. 18 of this year, chances are that Powell hooked it up.
Brooklyn's Robin Hood had no shame, defending his behavior to prosecutors, "What's the big deal? I've been doing this since I started here."
Powell now faces serious charges, including grand larceny, criminal possession of stolen property, and petit larceny.
His next court appearance is scheduled for May 11.
[h/t DNAInfo]
Have a tip we should know? [email protected]