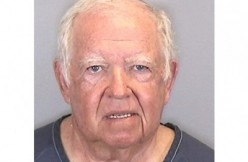 Here you go, people: a lesson on how not to handle a 1) political disagreement, and 2) a marital spat. 78-year-old Lawrence Littman, a Trump supporter, attacked his wife, 73-year-old Elvia Littman, a Clinton supporter, according to a police report obtained by The Smoking Gun. They'd been arguing about the presidential election. It happened Saturday in Manatee County, Florida.
Elvia Littman said her husband grabbed her wrist and threw her to the ground, the police report stated. She said they'd been arguing about politics, and "exchanged words." Littman claimed her husband threw her around several times, "called her many derogatory names," and caught her when she tried to escape.
Of course, Mr. Littman had a slightly different story. Yes, they'd be arguing about politics, but he told police she tried to slap him first, and he "shoved her back and she slipped and fell to the ground."
Lawrence was the one arrested, and charged with battery on a person 65 or older, a felony. He is scheduled for a court date on August 26. Littman faces at least three years in prison, and a maximum fine of $10,000.
[mugshot via Manatee County]
–
Follow Alberto Luperon on Twitter (@Alberto Luperon)
Have a tip we should know? [email protected]