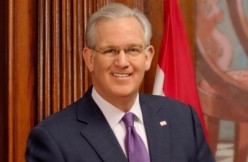 The same governor who cut his state's public defender budget now might have to be one. At least, that's what Michael Barrett wants. He's the director for Missouri's public defender program, and he's used an obscure state law to appoint Governor Jay Nixon to serve in court.
It's all because of a long-running dispute over funds.
In his August 2 open letter to Nixon, Barrett said the governor vetoed a 2009 bill that "would have provided caseload relief to an overburdened public defender system." But Nixon never followed through on promises to fix things.
"Instead, you have repeatedly cut funding for an indigent defense system that continues to rank 49th in the U.S., with a budget that the consumer price index indicates has less value now than it did in 2009," Barrett wrote, adding that 12 of Nixon's executive agencies have only faced total budget cuts of .47%.
He claimed public defender workload has only gone up while funding to hire more lawyers has gone down. This has already hurt local Missourians. Citing a Justice Department report, he said the lack of public defenders has deprived the rights of "poor black children" without financial access to a legal defense.
But now Barrett is using a little-known law to fill vacancies in the system. Section 600.042.5 of the Missouri Revised Statues allows the public defender director to "delegate the legal representation of any person to any member of the state bar of Missouri."
You see where this is going. Barrett has now tapped Nixon, former Missouri Attorney General and graduate from the University of Missouri School of Law, to serve as a public defender.
Despite reservations to use the law on other private attorneys "who have in no way contributed to the current crisis," Barrett is just fine using it on Nixon. "However, given the extraordinary circumstances that compel me to entertain any and all avenues for relief, it strikes me that I should begin with the one attorney in the state who not only created this problem, but is in a unique position to address it."
That's quite a burn.
Under the Sixth Amendment, it's a Constitutional right for poor people to get access to public defenders.
[image via the Office of the Missouri Governor]
Update – August 4, 12:50 p.m: Gary Toohey, the Director of Communications for the Missouri Bar, confirmed to LawNewz.com that Gov. Nixon "is a member in good standing of The Missouri Bar."
Update – 5:55 p.m: The Communications Director for Nixon, Scott Holste, wrote to us, saying the law doesn't give Barrett the power to actually recruit Nixon.
Gov. Nixon has always supported indigent criminal defendants having legal representation. That is why under his administration the state public defender has seen a 15 percent increase in funding at the same time that other state agencies have had to tighten their belts and full-time state employment has been reduced by 5,100. That being said, it is well established that the public defender does not have the legal authority to appoint private counsel.

Under Section 600.064 of Missouri law, only the circuit court can appoint a private attorney to represent an indigent criminal defendant. Section 600.042.5, the statute referenced by the public defender, authorizes the public defender to "delegate" representation by contracting with private counsel, which requires the consent of the private attorney.
–
Follow Alberto Luperon on Twitter (@Alberto Luperon)
Have a tip we should know? [email protected]