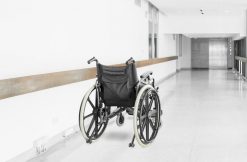 Residents of Radnor Township, Pennsylvania will probably remember Democrat William A. Spingler, 75. He used to serve as their commissioner. Now they're learning that he's been charged with groping a 103-year-old woman.
Two employees and a nurse at the Wayne Nursing Home told the Radnor Police Department that they saw him inappropriately touch one of the residents on Dec. 15, 17, and 23—kissing her on the lips, and groping her chest, according to an affidavit obtained by The Smoking Gun. On the 23rd, a nurse saw that the victim seemed to be uncomfortable with Springler touching her chest, so the nurse told the retired politician to stop.
"What?" he allegedly said, then left after saying goodbye to the victim.
75yo WilliamSpingler charged w/touching woman's chest area while visiting nursing home in Wayne. Victim is 103yo w/dementia @FOX29philly pic.twitter.com/ebhOowNK4v

— Shawnette Wilson (@SWilsonFOX29) December 30, 2016
Now Spingler faces indecent assault charges. He declined to comment when Philly.com reached him by phone.
Expect prosecutors to argue that this relationship wasn't consensual in any meaningful way. As the affidavit puts it, the woman "is 103 years old and is diagnosed with dementia, unspecified lack of coordination, muscle weakness, anxiety disorder and difficulty walking." She also "is physically and mentally unable to defend herself and is completely dependent upon staff to provide all activities of daily living care 24/7."
[image via Suwin and Shutterstock]
Have a tip we should know? [email protected]