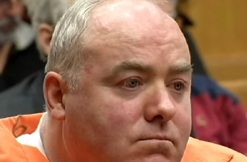 The Connecticut Supreme Court reinstated the murder conviction of Michael Skakel, the Associated Press reported on Friday.
He was convicted in the 1975 murder of 15-year-old Martha Moxley, but he was granted a new trial in 2013 and later released on bond. Current attorney Hubert Santos argued that Skakel got bad representation from previous lawyer Mickey Sherman. It was even argued that Sherman should've tried to show that Skakel's own brother was a potential perpetrator.
The Connecticut Supreme Court didn't agree with Santos' claim.
"Because we conclude that the petitioner's trial counsel rendered constitutionally adequate representation, we reverse the judgment of the habeas court and remand the case to that court with direction to render judgment denying the petition," they wrote in a 4-3 ruling.
Skakel is a member of the Kennedy political dynasty by marriage. His aunt Ethel Skakel Kennedy was married to assassinated presidential candidate and U.S. Attorney General Robert F. Kennedy.
Update – December 30, 4:22 p.m.: Added more information above regarding the Skakel case, and what led to the 2013 ruling. We've also reached out to Santos for comment.
[Screengrab via WTNH News]
Have a tip we should know? [email protected]