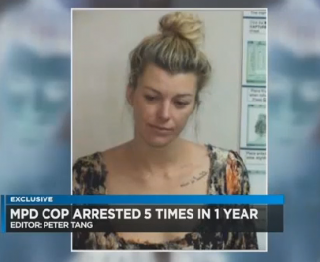 A Maui police officer who has been arrested for everything from child endangerment to a DUI to skipping court over the course of one calendar year is still employed by the Maui Police Department, according to an exclusive report by Hawaii News Now.
The troubles of Rachel Garvin, a mother and eight-year veteran of the Maui police force, began in 2014 and allegedly stem from drinking. While picking her son up at school one day, two teachers at the school suspected Garvin of being drunk. Allegedly, they were right. Just a few minutes later Garvin crashed into a guardrail with her son in the car.
The Maui police officers who arrived on the scene allegedly allowed Garvin to walk from it without a field sobriety test. Only after an internal probe conducted by the department did authorities open a criminal investigation into the events surrounding the crash. Even then, Garvin pleaded no contest to a child endangerment charge and was put on one-year probation. That same year, she was arrested four more times.
In May 2015, Garvin was arrested for allegedly driving drunk; she refused to submit to a breathalyzer. The Maui Police Department (MPD)released a report of the incident, but failed to mention two important facts: (1) it was Garvin's second arrest in four months and (2) she violated the terms and conditions of her probation.
Arkie Koehl, with Mothers Against Drunk Driving, believes Garvin's position as a veteran of the force puts the MPD in an uncomfortable position. "It's kind of awkward for Mothers Against Drunk Driving because the police are our closest partners and we totally depend on the police, just as the public depends on the police to protect us from drunk drivers," Koehl said.
The Maui Police Department did not return phone calls made by Hawaii News Now seeking comment.
Garvin is currently assigned to desk duties and has surrendered both her credentials and firearms.
[h/t HawaiiNewsNow]
[Screengrab via HawaiiNewsNow]
Have a tip we should know? [email protected]