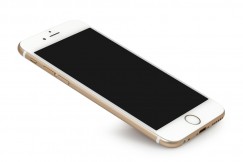 Have you ever been so mad with customer service that you shot something? A Wisconsin man did.
According to Hudson police and witnesses, he went to a T-Mobile store to replace a phone with a cracked screen. Employees said no, that damage wasn't covered by his service plan. This guy allegedly fumed, and cursed them out.
Apparently, it wasn't enough for him to vent. He allegedly pumped the phone with six bullets. Mind you, the shooting happened at a gun range afterward. Gotta go ape responsibly, I guess.
Police say he put the phone in a plastic bag, returned to the store, and dumped the bag on the counter, leaving without a word. According to the police report, he "sat in his car watching their reaction."
We're not sure how to process that last detail.
The T-Mobile employees certainly reacted. Police went to the store, and were able to find the shooter. This guy allegedly admitted it "was probably a dumb thing to do given current events, but he stated he was upset and angry about the phone."
By "current events," he probably meant all of the mass shootings. Yeah, maybe scaring store employees with a shot-up phone is a bad idea.
Maybe he'd be more angry and upset with going to jail, but cops let him off with just a warning: He'd face trespassing charges if he ever comes back to the store.
[h/t Pioneer Press, image via Shutterstock]
–
>> Follow Alberto Luperon on Twitter (@Alberto Luperon)
Have a tip we should know? [email protected]