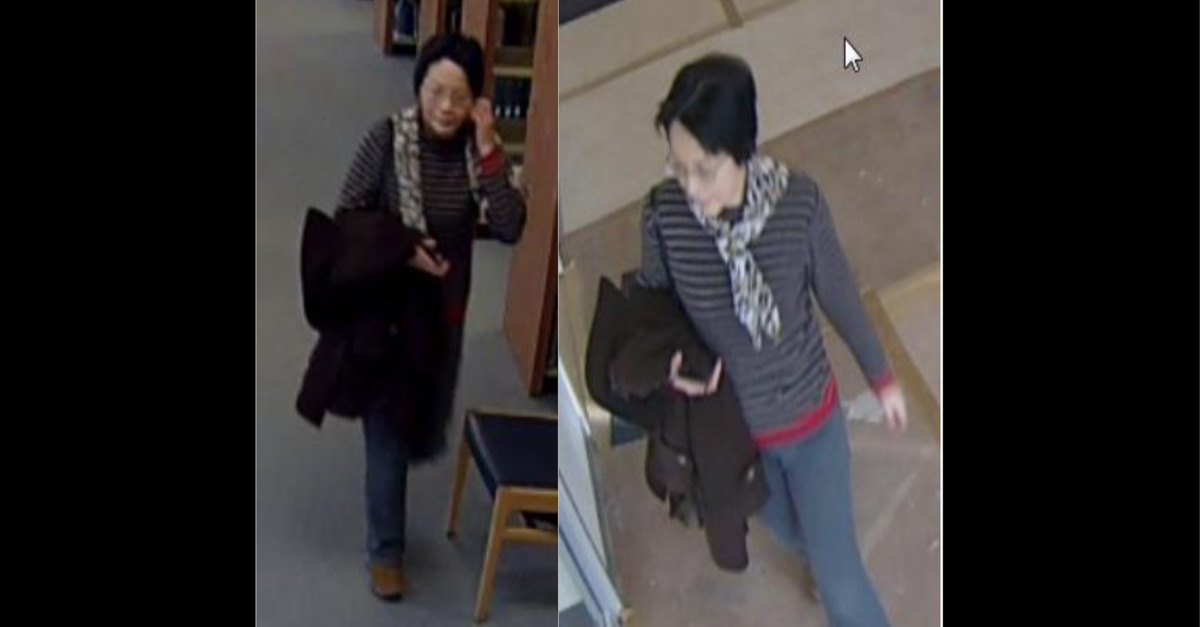 Officials at a university in Maryland are worried about a mother who is apparently trying very hard to find a date for her son. So worried, in fact, that now police are involved.
According to The Baltimore Sun, Towson University Police are asking students and staff to keep their eyes peeled for a middle-aged woman last seen wearing a scarf whose transgression is that she allegedly is looking for a date for her son.
In a "HELP US IDENTIFY" advisory posted on the department's website, university police provide two stills of the alleged culprit from campus surveillance cameras.
The advisory notes:
The Towson University Police Department is asking for the community's help in identifying the person shown below. This person may frequent Cook Library and Center for the Arts.
"If anyone knows the person shown here or is approached by her the police ask that you call [us] immediately," the incident advisory concludes.
Campus police apparently received several complaints about the woman from students who said that she was walking around with a cell phone and showing people pictures of her son in an attempt to ferret out whether anyone would be willing to date him.
"This incident advisory is being provided in order to make the TU Community aware of an incident on campus that may cause concern," Towson University Police Chief Charles Herring wrote in an e-mail obtained by the Sun. "This advisory is intended to heighten awareness and inform the community of incidents that may impact their safety and security."
The outlet notes that university officials don't suspect the woman of any criminal wrongdoing–they just want the attempts at kindling romance to stop.
[image via Towson University Police Department]
Have a tip we should know? [email protected]