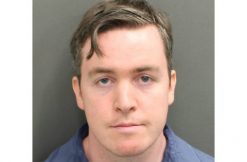 Virginia man Michael Richard Carr quit his job at the Herndon Police Department on September 26, Chief Maggie DeBoard told WJLA. Investigators began digging after his own family didn't know where he went. But what started as a missing person search turned into something else when troubling video popped up.
Carr, the now-former communications manager for the dispatch center, faces misdemeanor charges of videotaping a nonconsenting person in a location where there is an expectation of privacy. Read: He allegedly put recording equipment in a workplace restroom, and recorded two female coworkers.
Virginia authorities put out a fugitive warrant for his arrest. But where did he go? Brownie points to whoever guessed Florida.
According to jail records obtained by LawNewz.com, Florida Highway Patrol cuffed him on October 1, and he remains at the Orange County Detention Center in Orlando, awaiting extradition.
DeBoard told WJLA more charges might be filed.
"These are people you work with every day that you put your trust and faith in," she said. "And it rocks your world." She said the department is supporting the two women, and is making sure the restroom remains free of any recording equipment.
[mugshot via Orange County]
Have a tip we should know? [email protected]