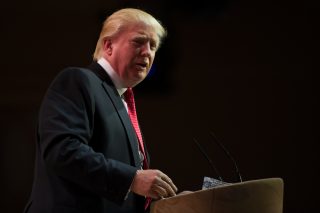 Donald Trump is preparing to sue the New York Times over an article they published this week regarding allegations of sexual misconduct against the Republican Presidential candidate. The article included descriptions of encounters that Jessica Leeds and Rachel Crooks had with Trump. Each woman said that Trump had touched them inappropriately.
Now, Trump's attorney Mark Kasowitz has threatened legal action against the Times, calling the article libel. "We hereby demand that you immediately cease any further publication of this article, remove it from your website and issue a full and immediate retraction and apology," Kasowitz said in a letter to the Times. "Failure to do so will leave my client with no option but to purse all available actions and remedies." Kasowitz characterized the article as "nothing more than a politically-motivated effort to defeat Mr. Trump's candidacy." He called Leeds and Crooks' stories "false and malicious allegations," and said the Times did not adequately investigate the claims.  Leeds' incident allegedly took place decades ago, and Crooks' was in 2005. According to the Times, neither one reported the encounters to police, but both had told friends and family.
Times executive editor Dean Baquet defended the article, telling CNNMoney, "I think it is pretty evident this story falls clearly in the realm of public service journalism, and discussing issues that arose from the tape and his comments since it surfaced."
Despite this, Trump's legal team was reportedly already at work, drafting a lawsuit against the newspaper Wednesday night.
A lawsuit is being drafted now by Trump against the NYT. Very possible it could be announced tonight, though discussions ongoing.

— Robert Costa (@costareports) October 13, 2016
Update 1:47pm: David McCraw, an attorney for the New York Times, responded to the threat of legal action with a letter of his own addressed to Kasowitz. McCraw defended the Times' article, saying that the reporters "diligently worked to confirm the women's accounts." He also said that the article did not harm Trump's reputation, since that had already been done by Trump's own previous words, where he admitted to walking in on beauty pageant contestants in their dressing rooms and bragging about touching women. "Nothing in our article has had the slightest effect on the reputation that Mr. Trump, through his own words and actions, has already created for himself," the letter said.
McCraw also pointed out that the information was of national importance, which is why they published the story of the women's allegations, as well as Trump's denial. "[I]f he believes that American citizens had no right to hear what these women had to say, and that the law of this country forces us and those who would dare to criticize him to stand silent or be punished, we welcome the opportunity to have a court set him straight."
David McCraw, NYT lawyer, responds to Trump's letter. pic.twitter.com/ziPBCIjkvP

— Sydney Ember (@melbournecoal) October 13, 2016
[Image via Christopher Halloran/Shutterstock]
Have a tip we should know? [email protected]