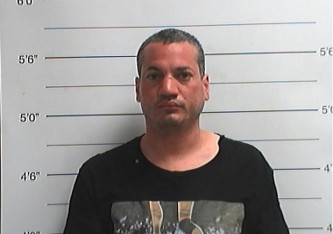 The New Orleans Police Department (NOPD) released a statement admitting officers misapplied the state's new "blue lives matter" in charging a man who allegedly shouted slurs at officers during his arrest.
NOPD spokesman Tyler Gamble told the New Orleans Times Picayune newspaper "it is clear that the responding officer incorrectly applied the law relative to a hate crime in this incident."  Gamble said the determination was made following a department review of the charges.  He also said the department is in the process of training officers and supervisors on the changes in the law "to ensure it is applied properly moving forward."  Adding, the ultimate decision with how to move forward belongs to the Orleans Parish District Attorney's Office.
The new "blue lives matter" law went into effect on August 1.
When questioned about the charges after the initial arrest earlier this week, D.A.'s Office spokesman Christopher Bowman said, "Based up on that review, the office will make a determination whether or not to initiate formal charges, and which charges to initiate." Bowman declined to comment further, according to the newspaper.
Raul Delatoba was arrested on Monday after he damaged a window at a hotel in the French Quarter. During the arrest, Delatoba allegedly screamed racist and sexist slurs at police officers, calling the female officer a "dumb a— c—" and another officer a "dumb a— n——."  A police sergeant then reportedly instructed the arresting officers to file the hate crime charge.  Delatoba is believed to be the first person charged under the statute.
Several advocacy groups, including the Anti-Defamation League, have been critical of the law change and were especially critical of the decision to apply it based on these facts.
Allison Padilla-Goodman, the regional director of the ADL, said it was inappropriate to apply the law in this case because the alleged underlying crime of property damage did not connect to the alleged slurs against the police officers.
To apply the hate crimes statute in this context, the underlying offense of simple criminal property damage would have to be committed in connection with the intent to discriminate against the police officers.
Have a tip we should know? [email protected]