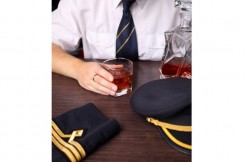 A JetBlue pilot was arrested Wednesday for allegedly flying drunk. Dennis Murphy Jr. touched down at Kennedy Airport in New York City on April 21, 2015. There, he was chosen for a random alcohol test, The Associated Press reports.
Murphy allegedly registered a blood-alcohol level of .111. A second test, administered 15 minutes later, revealed .091. Federal law prohibits anyone from operating an aircraft if they have a .04 blood-alcohol level or higher. Murphy told the test administrator that his chewing gum caused the high results, CBS News' Kris Van Cleave reports.
His co-pilot reportedly told investigators he saw Murphy "drinking an unknown beverage from a cup before and during" that flight and a previous one that same day, according to a federal complaint obtained by The AP.
In a statement, JetBlue said Murphy no longer works for them.
Murphy is scheduled to be arraigned on Wednesday in a Brooklyn federal court. He faces federal charges of piloting a plane while intoxicated.
[image via Ambrozinio / Shutterstock]
–
Follow Alberto Luperon on Twitter (@Alberto Luperon)
Have a tip we should know? [email protected]