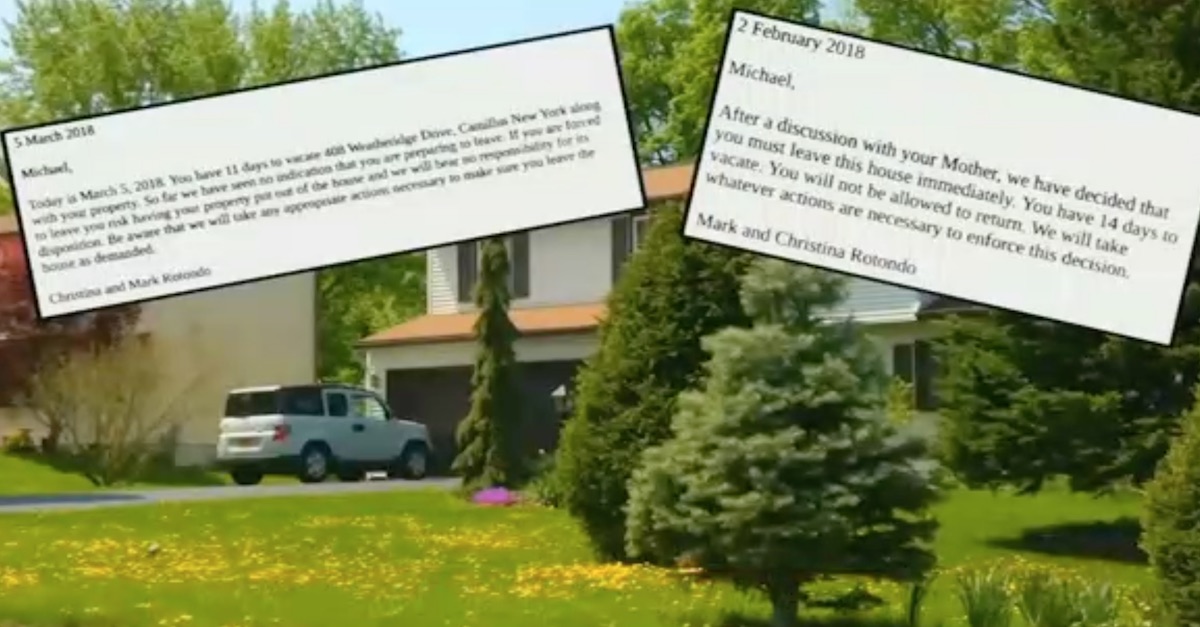 Every family has its own challenges. The challenge for the New York-based Rotondo family? Getting their 30-year-old son to move out of the family home. They've gotten their wish.
A judge has ordered Michael Rotondo to leave his parents' home.
New York State Supreme Court Justice Donald Greenwood rejected Rotondo's argument on Tuesday that he should be allowed six months time to move, Syracuse.com reported. Greenwood apparently praised Rotondo's legal research of a prior family eviction case before calling his demand for more time "outrageous."
Rotondo replied that he found the case in minutes on the internet.
Judge Greenwood asked the attorney for the parents, Anthony Adorante, to put together an eviction order the judge would sign.
Christina and Mark Rotondo of Camillus, N.Y., bombarded their son Michael with letters week after week demanding that he leave the home. Michael, who is unemployed and 30, has even been offered more than $1,000 for help with moving.
Images of at least 5 letters they've sent from the beginning of February to the end of March show how seemingly desperate the parents are for their son to grow up.
The letter said things like, "After a discussion with your Mother, we have decided that you must leave this house immediately," and, "Michael Joseph Rotondo, You are hereby evicted […] effective immediately."
But the Rotondos didn't stop at sending letters. They tried in April to get the town court to evict their son to no avail. On May 7, they filed a petition in state court to order Michael's eviction.
That petition resulted in Tuesday's ruling, which Rotondo may appeal.
The court appearance lasted 30 minutes and was described as "surreal." The best detail of all is that Rotondo actively sought out news cameras as he left the courtroom to tell his story before he went back home to his parents' house.
[Image via KULR screengrab]
Have a tip we should know? [email protected]