The winner of the 2016 Ms. World filed a lawsuit against several people whom she claims operate a Facebook page and website using her image as the face of "fake news."
The beauty queen, Laura Hunter, filed the lawsuit against Michael Powell and others, along with Gravitas Advertising and SCMA Holding companies, claiming the defendants operate a website that deals in "fake news" and "stole an innocent person's identity and is using it to falsely proclaim that she is the spokeswoman for this fake news enterprise."
According to Hunter, she was contacted by Powell in October and asked to sign a release giving Powell permission to use her headshot.   She declined permission, according to the lawsuit which was first obtained Courthousenews, Hunter describes herself as a photographer model and actress who won the 2016 Ms. World pageant.
In the lawsuit, Hunter alleges she later found out that Powell had already used her photo to create a Facebook profile called LauraHunterCDR.  After discovering what had happened, Hunter says she conducted a Google search and the top result led to a right-wing political website called the Conservative Daily Review and she found her own face plastered across the page.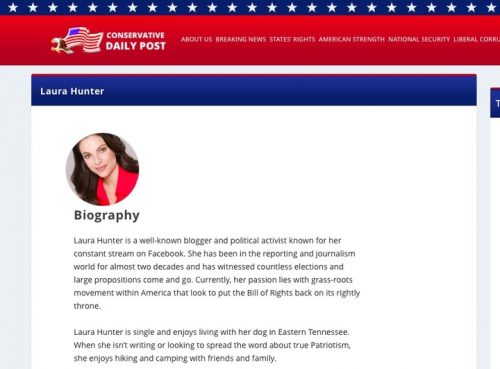 Hunter claims the headshot used on the website is the exact same one Powell allegedly sent her in October.  However, she claims to have no affiliation with either the webpage or the Facebook page.  In fact, Hunter claims to be politically neutral.
All the while, the Facebook page has received nearly 1 million likes and followers.  And most of the content posted on the Facebook page is redirected via links to the conservativedailypost.com (CDR) webpage.
"They have stolen her identity and used her as a spokeswoman for and purported author of content and viewpoints antithetical to her own beliefs,"  the lawsuit states.  According to Hunter, the CDR website is "dedicated to spreading false information about American politics; it is part of the epidemic of 'fake news' sites that plagued the 2016 presidential election."
Hunter even claims the CDR website lists a fake bio about her and only exists to "spread fake news to promote a conservative political agenda."
The lawsuit accuses the website and Facebook operators of unjust enrichment and seeks punitive damages for violations of rights of publicity, presenting Hunter in a false light and misappropriation of her name and likeness.  Hunter also seeks an injunction to force the website offline.  The website is still active as of 1:35 PM EST on Friday.
LawNewz reached out to Hunter's attorney, Marc Randazza, and we will update the story as soon as we receive a reply. We have been unable to contact any of the defendants named in the lawsuit.
[image via screengrab]
Have a tip we should know? [email protected]