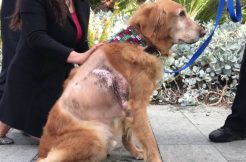 His name's Henry. The 7-year-old isn't that young for a golden retriever, but even at that age, you wouldn't expect a malignant tumor to expand like a beach ball.
Police in Newport Beach, California say his owner ditched him at an animal hospital while he had a 42-pound growth on his stomach. For comparison's sake, the average male retriever can weigh up to 80 pounds.
Orange County prosecutors held a press conference on Wednesday to announce that they charged the woman, 52-year-old Sherri Haughton, on misdemeanor counts of animal cruelty, animal abandonment, and interfering with an investigation. She faces up to two years in jail if convicted. An arraignment hearing is scheduled for January. She hasn't commented on the case.
As for Henry, vets cut out the tumor, and he showed up to the press conference reportedly healthy.
"As a pet owner myself, I consider these animals family members and I encourage others who are struggling to not abandon their animals but to bring them to a shelter or find alternatives to surrendering your pet," Orange County Supervisor Michelle Steel, who spoke after the press conference, said in a written statement. "We have many resources in the county and for those living in cities who contract with OC Animal Care, we accept animals of all size and condition."
[Screengrab via Orange County Register]
Have a tip we should know? [email protected]