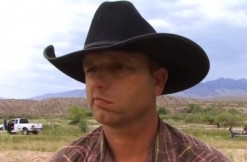 We don't know how to emotionally process this story. Ryan Bundy, one of the militiamen who took over a federal building in Oregon, filed a motion on Thursday in which he called himself an "idiot."
Here's an excerpt from the motion. We've faithfully maintained the format:
i; ryan c, man, am an idiot of the 'Legal Society'; and; am an idiot (layman, outsider) of the 'Bar Association'; and; i am incompetent; and; am not required by any law to be competent; and;
Breaking news: Bundy doesn't have a lawyer. He filed this one pro se.
Bundy, his brother Ammon, and others were arrested in February for their role in the takeover of the Malheur Wildlife Refuge. They were protesting the government's imprisonment of two ranchers convicted for arson, and the feds' ownership of local land.
Simply put, Bundy argued he wasn't subject to federal law and therefore shouldn't be prosecuted. Or as he put it: "i; ryan c, man, do not exist by the creation of the legislature of the UNITED STATES OF AMERICA."
It seems like Bundy might be what's called a "sovereign citizen." According to the FBI, these people "believe that federal, state, and local governments operate illegally." If not, he's certainly borrowing their unique way of writing. From the Southern Poverty Law Center:
In the 18th-century colonies, nouns were usually capitalized, although the practice was going out of style by the time of the Revolution. Based on that, sovereigns see secret meaning in the use or non-use of capitalized letters. For example, a "citizen" is a sovereign citizen imbued with all natural rights, whereas a "Citizen" is a 14th Amendment citizen subject to the rules and regulations of government.
That might explain why he never capitalizes his own name.
Bundy has previously argued that being in jail violated his Second Amendment rights.
[h/t Think Progress]
–
Follow Alberto Luperon on Twitter (@Alberto Luperon)
Have a tip we should know? [email protected]