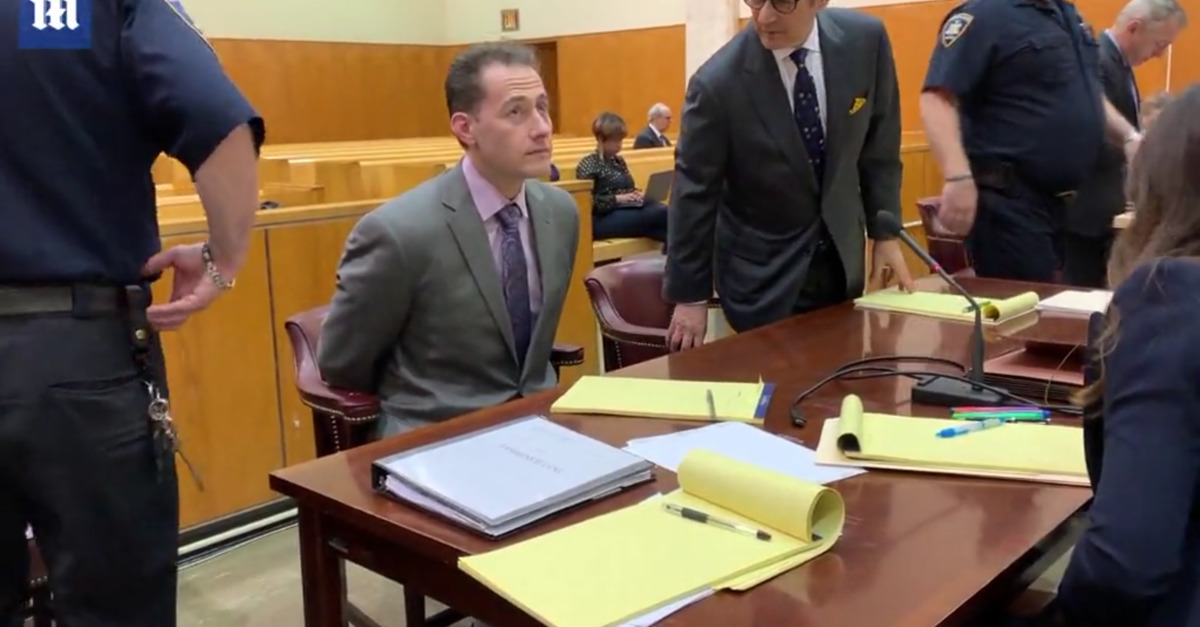 A man in New York City was given permission to scrub away all evidence of blood from what would eventually become a woman's murder scene. The organization that allegedly gave him such permission? The New York City Police Department (NYPD).
According to the New York Daily News, Meyer Weill is a medical device salesman who claims to be a rabbi. He's also the co-founder of Misaksim, an organization for Orthodox Jewish families that aims to help mourners deal navigate the death of loved ones in accordance with Jewish law. Weill does not actually teach Torah but says he was granted the honorary title of "rabbi" due to his affiliation with Misaksim.
It was a request to this organization which prompted Weill to show up at the Upper West Side apartment of 47-year-old financial adviser Shele Covlin the day after she was discovered dead in her bathtub by her 9-year-old daughter.
Covlin was otherwise healthy and investigators initially determined her death was the result of a slip-and-fall; an accident. Eventually, however, police would come to believe that Covlin's estranged husband and Wall Street trader Roderick Covlin had strangled her to death.
But before police made the about-face in their investigation, crucial evidence had been removed forever from the scene of the alleged crime–all with police permission. Weill testified during Covlin's murder trial in front of a Manhattan Supreme Court jury on Tuesday.
The self-described rabbi said he entered Shele Covlin's apartment on New Year's Day in 2010 in order to remove any blood from the apartment–along with any items containing her blood and burn them in accordance with Jewish law.
On top of that, Weill said he also worked to convince Shele Covlin's family that an autopsy was unnecessary.
"I told them I want to come talk to them personally [about] why they want to do that," Weill said, "because an autopsy is against Jewish tradition."
Assistant District Attorney Matthew Bogdanos then asked Weill what his "goal" was.
"To prevent the autopsy," Weill affirmed.
"At the end of the visit, what was your understanding?" Bogdanos continued.
"The understanding was an autopsy would not be done," Weill said.
Shele Covlin's family had already signed a waiver indicating that they did not want the medical examiner to perform an autopsy on her body. Weill said he attempted to convince the family after they began having second thoughts.
He also said that his blood-cleaning work was unimpeded by the NYPD because Misaksim had phoned ahead to let the officer precinct know that they were on their way to perform the requested ritualistic services.
The organization reached out, "to see if the apartment was released, if we'd be able to come and clean up the blood," Weill told jurors during Roderick Covlin's murder trial on Tuesday. The officer guarding Shele Covlin's apartment door "knew that I was coming and he let me into the apartment," Weill continued.
Weill is not suspected of anything untoward and the fault appears to be on the NYPD for allowing him to effectively destroy evidence.
Seven months after Shele Covlin's death, her body was exhumed after suspicions were raised that Roderick Covlin was abusive and cheated on his spouse. A post mortem determined that she suffered a fractured hyoid bone–an uncommon fracture that almost always occurs when someone is strangled.
He was arrested and charged with murder in 2015. Prosecutors believe he was motivated by Shele Covlin attempting to cut him out of her will and that he attempted to frame his 9-year-old daughter for her death.
[image via screengrab/Daily Mail]
Have a tip we should know? [email protected]