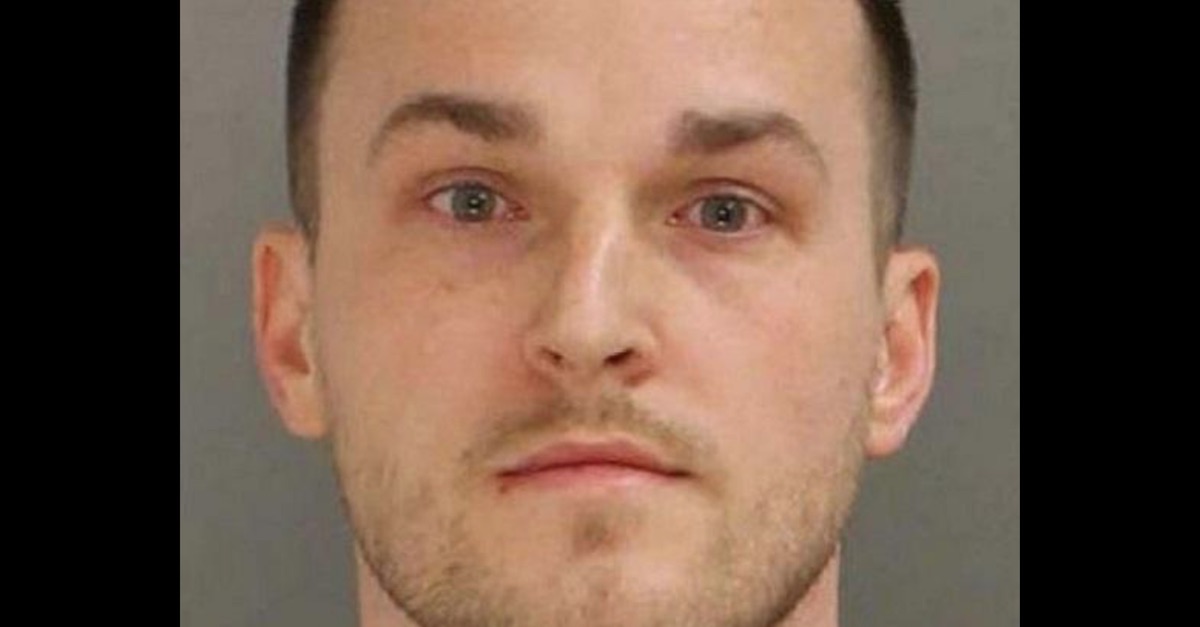 Update, Jan. 17, 2020: Per the terms of a plea deal, Aimers pleaded guilty to indecent exposure, disorderly conduct, and two counts of simple assault relating to a fight that occurred on the wedding reception premises. All charges were misdemeanors.
The charges relating to the alleged sexual assault were dropped, Assistant District Attorney Megan Hunsicker said, after consulting with the victim.
—
A New Jersey man who was in Bucks County, Pennsylvania for his own wedding reception is accused of sexually assaulting a minor in a bathroom stall while she was working at the event as a waitress.
Matthew Aimers, 32, denies it all. Louis Busico, Aimers' defense attorney, noted that his client a)  "absolutely denies all charges" and b) "maintains his innocence, and […] looks forward to clearing his name when this is all concluded."
Speaking of "all charges," Aimers faces charges of false imprisonment of a minor, corruption of minors, indecent assault, resisting arrest, indecent exposure, disorderly conduct, and harassment.
What happened on Nov. 24 at the Northampton Valley Country Club? While Aimers denies the assault and the ensuing brawl he's accused of starting, police say that Aimers approached the juvenile waitress and said "[W]e can do whatever you want." Authorities say that later on that night, Aimers followed the waitress into the women's bathroom, pulled her into a stall and forcibly kissed her before attempting to unbutton his pants. The waitress recalled Aimers offering her $100 and asking, "Can you kiss me like you mean it?"
That's not all.
Police were called to the scene later on because a brawl broke out. Authorities reportedly observed Aimers "pushing and punching people." The fight allegedly started because Aimers was not happy that he was told by county club employee that he could not take alcohol outside.
Authorities said that Aimers essentially challenged a responding officer to a fight rather than complying with orders.
That did not end well. Aimers is expected in court on Feb. 21 and is out of jail after posting $35,000 of his $350,000 bail.
[Image via Bucks County DA]
Have a tip we should know? [email protected]