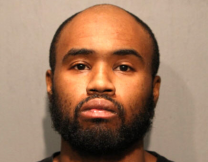 Funerals are stressful, sad events. No avoiding it. Nobody is in the mood to plan this thing, much less to go. Here are some tips that may carry you through this somber process. Tip 1: Never pull out a gun unless you're part of the 3-volley salute. Tip 2: Never point that gun at a cop.
At a bail hearing Sunday, prosecutors said Terrance Reed, 30, pointed a gun at an off-duty cop during a Jan. 4 funeral procession.
The officer was driving as part of the procession when Reed was reportedly blocking the route with his car. The officer honked his horn because hey, there's a funeral here. Then Reed pulled up alongside the cop's car, and pointed a gun at him, according to Assistant Cook County State's Attorney April Gonzales.
Fortunately, no shots were fired.
A short 911 call later, and Reed was later pulled over and arrested. Cops said they found a .40-caliber handgun, and 10 bullets in his car. The off-duty officer, who now had to give a statement on top of going to a funeral, identified Reed, and his gun.
The Sunday bail hearing did not go well for Reed, who was charged with unlawful use of weapon by a felon.  Reed was already on parole for a previous drug offense. Cook County Judge Donald Panarese Jr. set bail at $200,000.
[h/t and image of Terrance Reed via Chicago Sun-Times]
–
>> Follow Alberto Luperon on Twitter (@Alberto Luperon)
Have a tip we should know? [email protected]