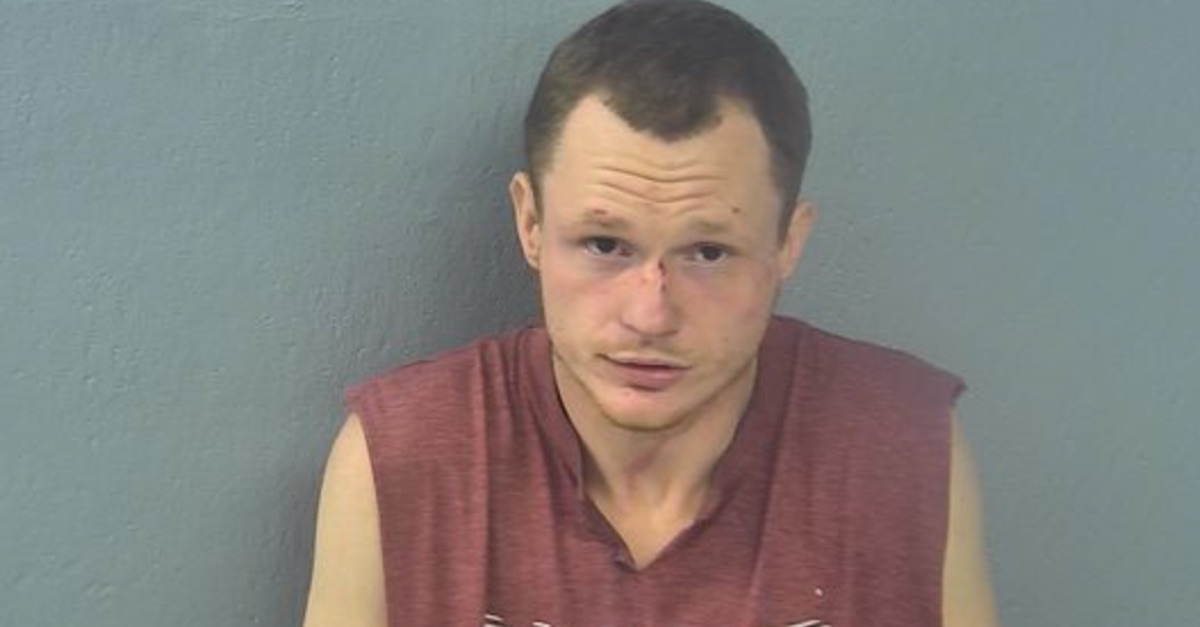 A 26-year-old Missouri man has been identified by police as the suspect who allegedly choked, raped and stabbed a woman in the back. James Simpson, Greene County police say, was identified as the perpetrator because of some pretty distinct tattoos. One of them said "family values," and the other was a swastika.
Simpson allegedly attacked the woman after she invited her over to her Springfield home on Jan. 23. Simpson allegedly committed the rape at knife-point. The woman only escaped the assault by climbing out of a window naked and seeking safety at a neighboring residence.  Simpson was tracked down by police on Monday and arrested, but not before he allegedly resisted arrest.
Jail records viewed by Law&Crime show that Simpson now faces charges that could put him behind bars for the rest of his life. Those charges include: first-degree rape, first-degree assault, armed criminal action and resisting arrest. All told, Simpson is charged with six felony counts.
Simpson allegedly forcibly removed the woman's clothes by cutting them off with a knife and then raped her at knife-point, the Springfield News-Leader reported. Authorities said that Simpson stabbed the woman twice, puncturing a lung.
Simpson's bail has been set at $250,000. It's not immediately clear if Simpson has an attorney of record in case, or if he has a more extensive criminal history. The accused allegedly assaulted the woman within 24 hours of meeting her, so the unforgettable tattoos has was sporting appear to have played a major role in his capture.
[Image via Greene County Jail]
Have a tip we should know? [email protected]