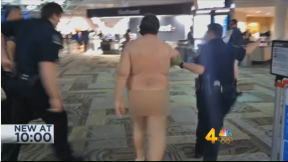 A Tennessee man took an evening stroll sans clothing at Nashville International Airport on Sunday. Travelers witnessed Eric Cherry walking through the baggage claim area after he left his clothes in the parking lot.
Cherry attempted to purchase a plane ticket before airport security apprehended him, returned his clothes, and sent him to jail with a public indecency charge. It "wasn't anything malicious," airport spokesperson Shannon Summerall told the New York Daily News. "Just a harmless gentleman."
Summerall added that Mr. Cherry had attempted to enter the airport naked in the past, but normally just wandered around the parking lot. This was the first time he made it into the terminal.
[h/t NY Daily News, Screengrab via WSMV]
Have a tip we should know? [email protected]