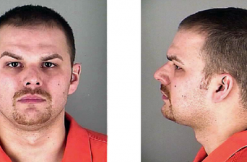 You've been late for work before. So have I. Happens to everybody. You call you manager, tell them what the deal is, that you're really sorry, etc, and you'll be there as soon possible. Not a clean solution, but a simple one. What's not a simple solution is stealing a city bus.
Gregory Jennrich is accused of doing just that in St. Paul, Minnesota on Wednesday. The 31-year-old mechanic took the idling, empty bus after he locked himself out of his own car, Metro Transit spokesman Howie Padilla told the Pioneer Press. In case you're wondering where the real driver was, she was in a nearby gas station.
Thing is, Jennrich actually works for Metro Transit as well. The bus was tracked as he drove toward the garbage where he's employed, but sadly, he never clocked in. Cops pulled him over, and he was arrested.
He allegedly told cops he did it because he "was concerned he was going to be late for work," police records show.
Jennrich is scheduled for a hearing on Monday, and is charged with felony theft of a motor vehicle. If convicted, he faces 5 years in prison, and a possible fine of up to $10,000. Apparently, he had a clean disciplinary record with Metro Transit, but Padilla said they'll be "exploring his employment."
[h/t The Smoking Gun]
[Jennrich mugshot via KSTP-TV and Hennepin County Sheriff's Office]
–
Follow Alberto Luperon on Twitter (@Alberto Luperon)
Have a tip we should know? [email protected]