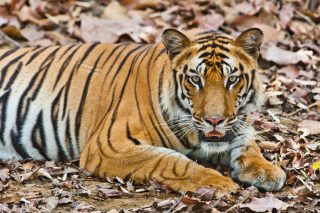 A Texas mother is facing charges for keeping her house like zoo — literally. Trisha Meyer allegedly kept monkeys, tigers, a cougar, a skunk, and a fox loose in her home in Houston, where she lived with her 14-year-old daughter.
Authorities were tipped off to Meyer's menagerie after she allegedly arranged to sell an exotic kitten to a man in California. The intended buyer never received the animal after he allegedly paid $3,000. Soon after, a police officer and a Texas Game Warden came looking for Meyer. They found a multitude of creatures all over the house, with Meyer's 14-year-old daughter petting one of them, the Houston Chronicle reported.
Meyer reportedly told officers that some of the animals were dangerous. She said that some of her monkeys were "vicious," and that one attacks people. She also said that she usually lets the animals walk around the house, except for when she leaves home and locks up the tigers. She is now facing felony charges for theft and endangering a child.
[Image via Shutterstock]
Have a tip we should know? [email protected]