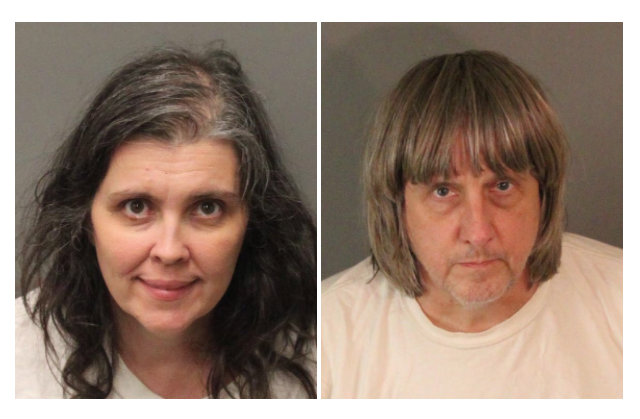 A judge will decide if abuse claims against Louise Anna Turpin and David Allen Turpin, the California couple who allegedly held 13 of their children captive, can go to trial. The Turpins pleaded not guilty in the case. One of the allegations against them: The wife choked one of their children for watching a Justin Bieber video.
Authorities got involved after the couple's 17-year-old daughter escaped from the home and called 911, the Riverside County Sheriff's Department said in a statement. Investigators said some siblings were chained to their beds. A deputy testified about the probe in a preliminary hearing on Wednesday.
Now hearing from RivCo Sheriff Deputy Manuel Campos who interviewed the 17-year-old Turpin girl who made the call. She left the Perris home through a bedroom window and was initially so scared "she was shaking" and at first couldn't dial 911.

— Richard K. De Atley (@RKDeAtley) June 20, 2018
At Wednesday's hearing, Deputy Manuel Campos recalled elements of his investigation and statements from the 17-year-old. He said she took pictures of two of her chained-up sisters as evidence, and testified that she was covered in dirt.
"It appeared to be caked on," Campos said.  The 17-year-old allegedly said they lived in squalid conditions, and the home smelled so bad she wanted to put her head outside for air (this allegedly wasn't allowed).
The girl claimed she often endured abuse, including strikes to head and face, hair pulling, and choking, Campos said. In one instance, she told him Louise choked her because she watched a video of pop star Justin Bieber on her sister's phone.
Punished by Louise who choked her for watching a Justin Bieber video on sister's cell phone, she told Campos.

— Richard K. De Atley (@RKDeAtley) June 20, 2018
"Do you want to die?" Louise Turpin allegedly said. The teen said no. "Yes, you do," Turpin allegedly responded. You want to die and go to hell."
The girl said her neck was sore for the next two days, Campos said. She also claimed to have been sexually abused at age 12 by her father.
The defense attempted to rebut the abuse claims.
In another possible attempt to downplay abuse, defense clarifies that #turpin girl was able to "verbalize" as her mother choked her for watching a Justin Bieber video. @MyDesert

— Colin Atagi (@TDSColinAtagi) June 20, 2018
Defense now focused on alleged sexual assault by David #Turpin. Got deputy to say that the daughter says just pants was pulled down. No contact with chest or genital area and father was clothed.

— Jeremy Chen (@JeremyChenKESQ) June 20, 2018
[Featured post image of Louise Turpin in February via Damian Dovarganes-Pool/Getty Images; mugshots above via Riverside County Sheriff's Department]
Have a tip we should know? [email protected]