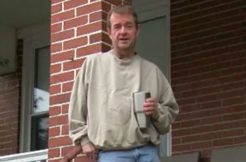 We've already written about Charles Wasko, the mayor of West York, Pennsylvania. He became infamous because of Facebook posts that compared President Barack Obama and First Lady Michelle Obama to apes. Borough council members quickly called for his resignation when news broke last week. So on Monday, they voted to censure him, PennLive reports.
"We will send a message to the mayor that his legislative body rebukes him in every way," said council president Shawn Mauck. The vote was unanimous and bipartisan, with both Democratic and Republicans going against them. They also passed a motion that'd give the borough solicitor the power to look for legal ways to kick Wasko from office. Over 100 people tended the meeting, some holding signs that called for the mayor's resignation.
In a Friday interview, Wasko admitted to ABC27 that he wrote the posts.
"The racist stuff: Yeah, I'll admit I did that, and I don't care what people label me as, but I will bring everything out, and there will be more resignations than mine, believe me," he said, claiming the council was corrupt.
He did not attend Monday's meeting, and how he'll respond to the censure remains unclear. We reached out to him for comment, and will update when he gets back.
[Screengrab via ABC27]
–
Follow Alberto Luperon on Twitter (@Alberto Luperon)
Have a tip we should know? [email protected]