The New York Police Department is looking for a man caught on video attacking and terrorizing women at the Tao Spa Bodywork in Flushing, Queens.
It happened Thursday night, according to an incident report obtained by Law&Crime. The suspect demanded a refund from a 55-year-old female employee, cops said. The statement didn't clarify why, but an NYPD source told us that the customer requested services "not on the menu," and the woman refused to oblige.
The employee declined to give the refund, but the man pulled out a hammer and demanded money, according to the statement. Cops said he punched her in the face.
This is apparent from the video. A man in a hooded sweatshirt holds a hammer in his left hand, and he strikes a woman in the face with his right.
She ran to the back, and three of her co-workers confronted the individual, the statement said. Police claim the hammer-wielding man grabbed one of them, a 56-year-old woman, and pushed to her the wall.
As seen on video, a woman in a white coat gets into a brief scuffle with the assailant.  She tosses a box of something at him, at which point he lunges at her as if he strike her with the hammer.
Police say that the women gave him $40 so he'd go away, and he did leave, but not before smashing open a nearby piggy bank, picking up some of the money, and as shown in the footage, apparently looking right at the security camera.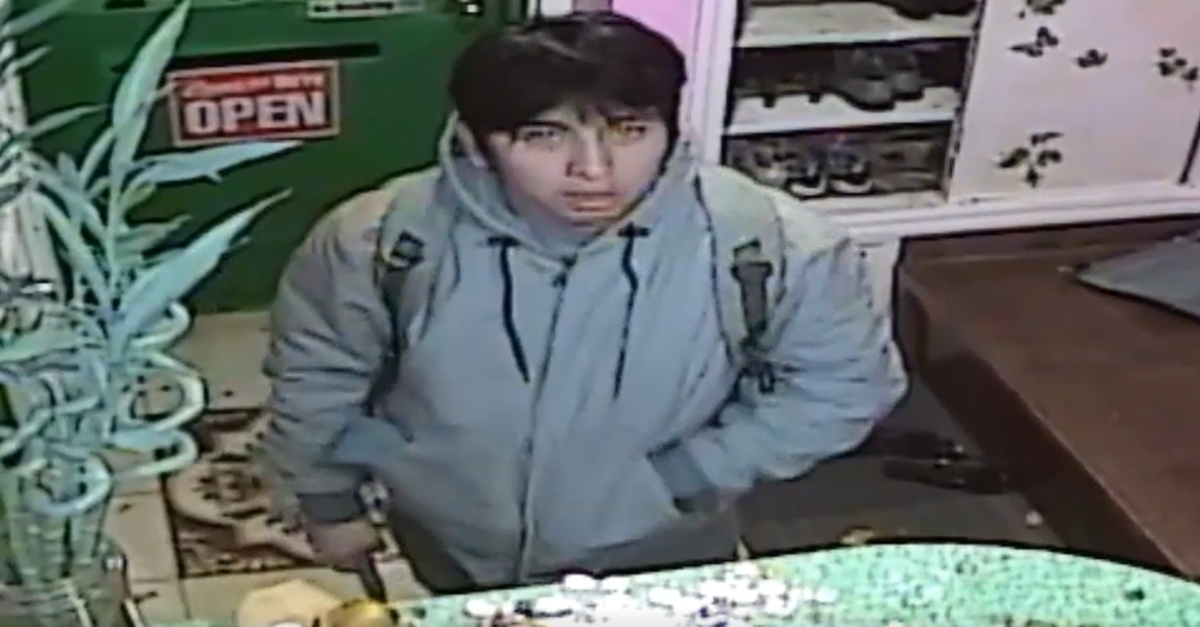 The women were treated by emergency medical services, police said. Cops are calling this incident a robbery. The man with the hammer is described as Hispanic, between the ages of 20 and 30, weighing 160 lbs, and having black hair. He was last seen wearing a gray hooded coat, dark jeans, tan work boots, and a "light colored backpack," police said.
[Screengrabs via New York Police Department]
Have a tip we should know? [email protected]